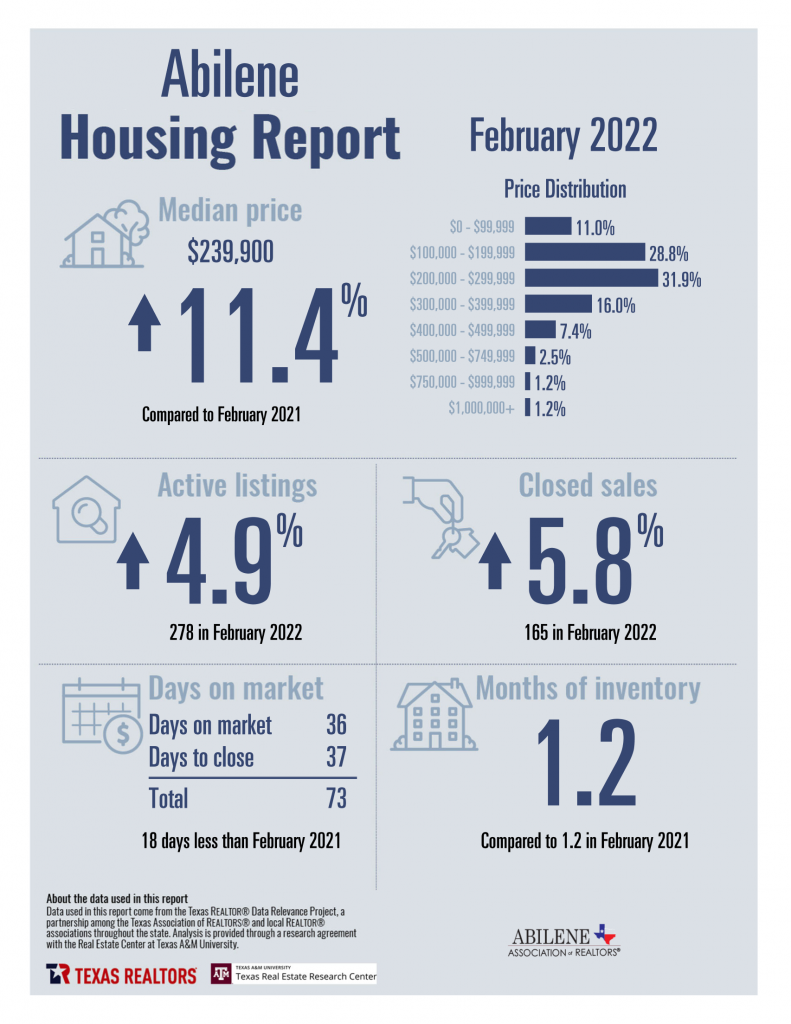 This is an interesting month to look at. First, when you look at that median sales price – wow! There are a few things I want to talk about here.
The total number of closed sales, while higher than last February, is still much lower than what we see in more active months. For example busier months in the spring and summer will often see 240+ closed sales.
While we have a median price that is $25,000 above what has been typical the last three quarters it's important to realize that prices have not seen another big jump.
Inventory of lower priced homes is at very unhealthy levels. Pre-existing, smaller homes have never had less inventory in Abilene than we see now.
This creates the situation above where the only homes to buy are larger and new construction homes at higher price points, but it's not that the prices of individual homes have increased, it's simply a function of the available inventory.
Prices are still at all time highs. Property in Abilene, TX has never been more valuable than it is now. The demand for pre-existing homes in the sub $200,000 price range is very high, and many buyers are being forced to look to the rental market because they can not afford the more expensive inventory that is available. This has been a problem around the country for years now, and the drastic price increases we saw last year have put unprecedented pressure on those trying to buy their first homes. The good news? Abilene is still a bargain when you compare it to averages across the nation. The average price nationally remains about 65% higher than our prices here in Abilene.
Buying demand has been relentless as buyers who can afford to be in the market are working to lock in their interest rates and purchase a home before interest rates continue to rise throughout the rest of 2022. We've already seen interest rates rise through Q1 of 2022, and all indications point to that continuing the rest of the year. Buyers for Abilene homes continue to find themselves competing against multiple offers and having to pay slightly above the listing price to be the winning offer. Thankfully we do not, and have never, seen the craziness in larger markets of buyers putting in offers $70,000 over list price and still not being the winning offer. The last year has been a frustrating, and at times, demoralizing experience for buyers. It has never been more important to have a full-time REALTOR on your side operating in our market on a regular basis to get into homes and to guide you in crafting a winner offer.
For our sellers out there. It's a great time to sell property. Values are at all time highs and many Abilene home owners are sitting on unprecedented amounts of equity in their homes. This is equally applicable to rental properties, and we've seen many property owners cash in on these profits. Call our office for a free consultation on any homes you have an interest in selling to see what kind of profit you could be sitting on! The biggest tip I can give anyone trying to sell a home right now is that you still need to put your best foot forward. Prices have never been higher, and if you want that buyer to pay top dollar for your home it still needs to be well taken care of and in good shape. You can't just throw a property on the market in mediocre condition and expect to get top dollar for it. What you can expect is that doing an upgrade or two and making sure the property is clean and shows well will be worth your investment in the final sales price. We have a program that can provide several thousands of dollars in upfront funding to help you get these improvements done and you simply pay it out of your closing proceeds when we sell your property at a higher price!
A few final snapshots of our Abilene housing market here on March 15, 2022.
There are 158 active listings in Taylor County
There are 58 active listings between $150,000-$300,000
There 216 properties with pending contracts
There are 12 listings over $1,000,000 currently active
Until next time!
Shay Senter – BHGRE Senter, REALTORS President