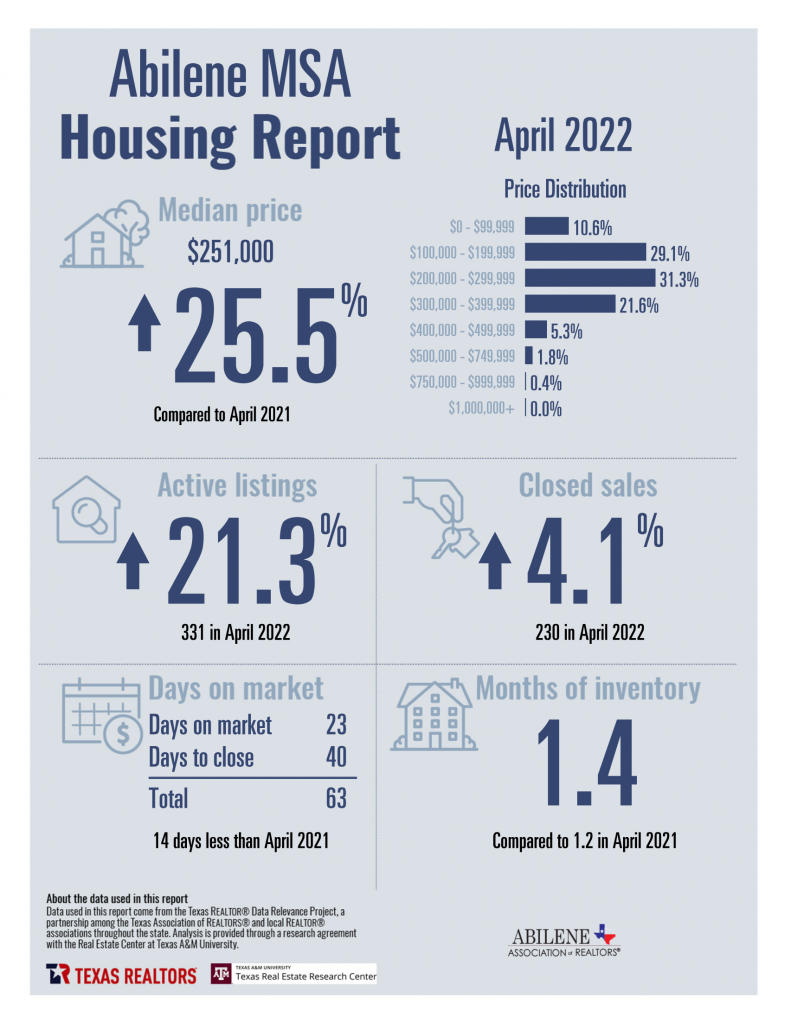 Median Price & Active Listings
Median price has been a tricky metric to process the past 12-15 months looking at year over year reporting. Did the median price of the homes that sold increase? Yes, clearly. Did the prices of homes increase by that same amount? No. This was more clear when we talked about this in February, but the same principle applies here. As new construction continues to be a dominant player we are simply seeing home buyers purchase more expensive homes. The price of those homes is certainly not up by 25% from a year ago, but the behavior of buyers continues to shift.
There has been an overwhelming trend of buyers preferring to purchase homes completely move-in ready and that are updated. Whether this is new construction or nicely remodeled homes the preference is very clear, and buyers have shown they are willing to overpay more eagerly to get this type of home compared to ones that need more work. As we head into the late spring and summer sales season we are also seeing the expected increase in active listings. There is still a long way to go there, but it's getting better.
Buying Experience
While things have gotten better, not much has changed for buyers in this market. You will almost always find yourselves in a multiple offer situation, and homes that are nice are selling extremely quick. Don't hold back your best offer if you love the home. We will work with you to guide the reasonability and protections in your offer, but now is not the time to stress over $5,000-$15,000 on the sales price if its a house you love. We still hear too often the buyers say "well we would have offered more". If that is the case, don't wait! Make that offer your first offer, you have to come in strong in this market or you will not be the winning offer.
Selling Experience
Sellers continue to enjoy a sellers market. Homes sell quick, and at the highest prices in history. However, there is a crucial mistake that sellers can still make related to comments on buyer preferences above. If the home you are trying to sell is not updated, and needs work, you can not expect to get the same top of the market values as those that are. This is particularly an issue in that $120,000-$180,000 price range. Yes, the inventory is tight, but buyers are not willing to overpay for a home that needs updates. Updates are expensive and slow in the current state of the supply chains and labor markets.
This creates opportunity for sellers to have a great ROI on high impact updates, but that is not always an option. Our BHGRE RealVitalize program can assist this to some degree by providing thousands of dollars of upfront funding for those high impact updates guided by consultation from one of our REALTORS. If you are not able to do that work either with our program or on your own it is crucial that you heed the pricing guidance of your REALTOR.
Mortgage Rates
We see mortgage rates continue to rise, and rates are expected to rise more in the coming months. As I've discussed in past housing updates this is keeping a cap of rising sales prices, and beginning to balance the supply/demand equation as more listings come during this active selling season. When you look back at 2008 and as people try to make comparisons of now to then it's important that we keep two crucial factors in mind that are different right now.
First, lending practices are much more strict than they were in 2008. Secondly, in 2008 there was a large surplus of housing which we definitely do not have here in 2022. Anyone expecting a crash is going to be disappointed, and we expect prices to continue rise slowly over the year. We aren't going to see another 20% increase like we saw in 2021, but I firmly believe you are not going to see prices go down either.
Until next time!
-Shay Senter, BHGRE Senter, REALTORS President