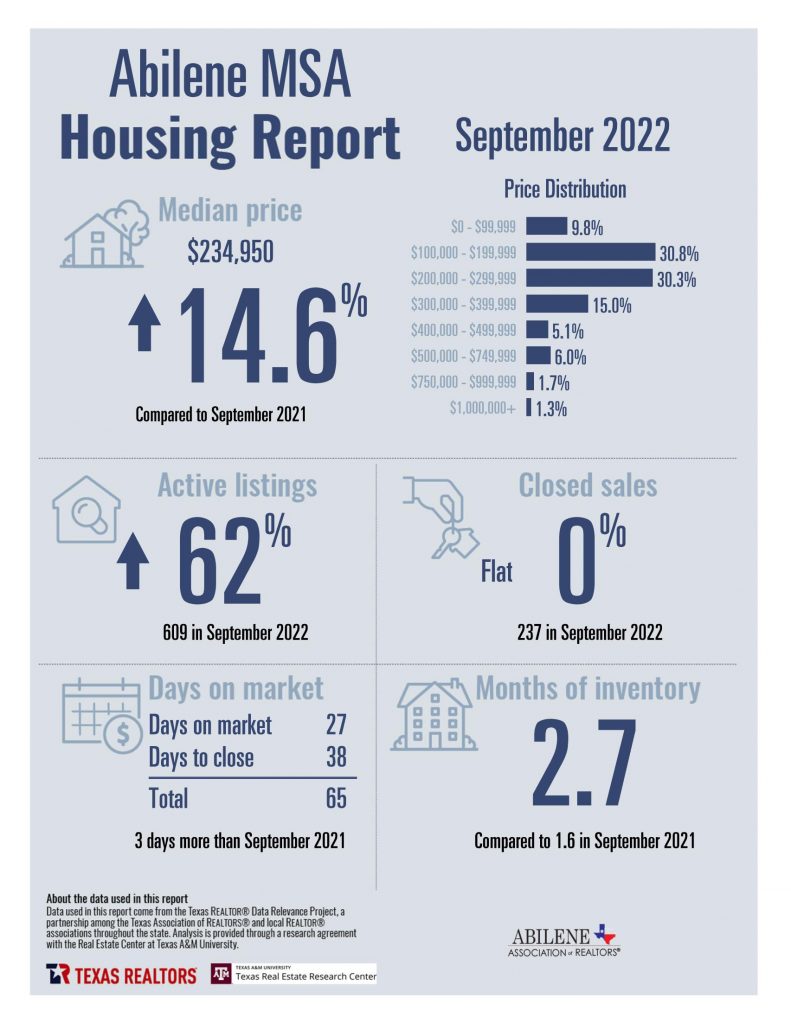 The market is changing. Having professional, local, and full-time guidance to guide your real estate decisions is more important than ever. Interest rates have risen more than expected, and positive inflation news remains aloof. The inventory recovery continues to be strong as we get closer to returning to three months of available inventory. Home prices have remained flat since April of 2022.
Seller Reality Check
For a vast majority of sellers the market is in a mostly balanced state. Still slightly favoring sellers, but it's changed dramatically from what we've all been experiencing for the past year. In the Abilene market we've seen approximately 15 price reductions come through the MLS every day. If you aren't adjusting to the new normal and discussing your price with your REALTOR, you need to be! As cost of living continues to rise, higher interest rates increase mortgage payments, and continuing to work with record high housing prices has cooled the insane demand that fueled most of 2022.
Sellers need to expect to make a few more concessions. Some common examples are offering to pay for that home warranty or pay some buyer closing costs. Updates throughout the home have only become more important as the buyer demand has dwindled and buyers continue to show a very strong trend in preferring move-in ready homes. Contractor and general employment shortages continue to pose challenges to the remodel market, and for those buyers who are willing to take on a "fixer upper". The hot market has left us, for now, and until things change with interest rates and cost of living you can expect the market to remain cool.
I would remind anyone reading this that BHGRE Senter, REALTORS offers upfront, no fees, funding for various home remodel projects when you list your home with us. Several thousands of dollars of funding, a project coordinator, and you just pay at closing! It's one of the many benefits we offer our clients to get the most profit for your home. Contact us to learn more about this program.
Buyer Relief
For both agents and buyers life is easier. The amount of multiple offer situations has declined drastically. Buyers aren't having to make offers sight unseen or waiving all of their due diligence items. It's simply a normal market. This is not to say buyers are without unique challenges of their own. With inflation and interest rates the way they are many buyers are finding themselves unable to afford a home they could have afforded a few months ago. The average mortgage payment has increased by approximately $700 per month since last year due to rising prices and interest rates. That's a large expense increase for most families!
The Bottom Line
It's still a good time to be in the market to buy or sell. For buyers, if you know you're going to live in that home for at least 3-4 years then becoming a home owner to start that path of equity and wealth is still a solid plan. Rent prices have seen similar levels of increase, and interest rates are expected to go down eventually. Whenever that occurs you can refinance your home to take advantage of those lower rates in the long term. Date the rate, and find a home you can enjoy. If you are going to be a short term buyer there is a very strong case to just keep renting as the costs associated with selling your home make it a difficult case to be in your favor.
Sellers still get to enjoy unprecedented amounts of equity in most cases. While homes are sitting on the market a little longer than they used to you will walk away from the closing table with a lot of profit to pursue your next dream. Taking the few extra steps to perform a few high impact updates, and making sure house shows well can make a big difference in this new market.
The market is changing, and data has to be accounted for every week! It's never been more important to have a full-time and local expert to offer you guidance and advice on your real estate goals. Trust in our 65 years of experience, our local expertise, and high producing REALTORS to get the most out of your real estate transactions. Reach out to the office, or your favorite BHGRE Senter agent, for a free consultation on your current needs.
Until next time!
-Shay Senter – President BHGRE Senter, REALTORS