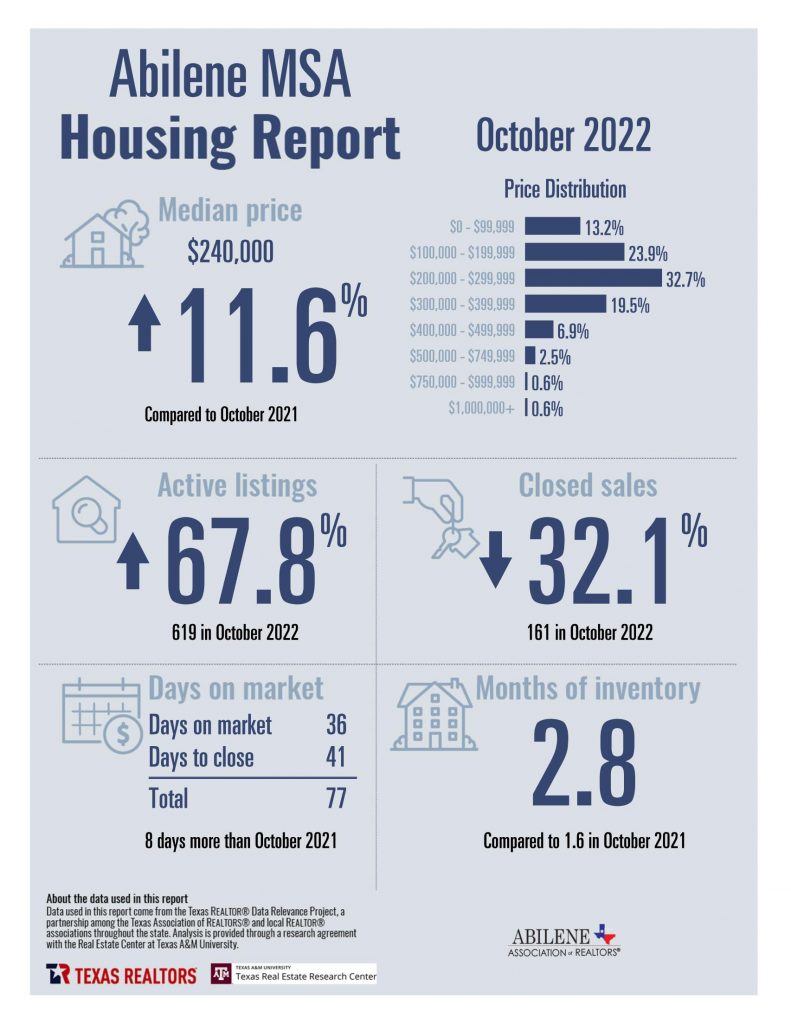 Well yes, I do believe the market has changed.
The Highlights
Prices continue to remain flat since April.
Prices are expected to remain mostly flat through 2023. With a potential to rise ~3%. There is also potential for prices to drop 5%.
There is no data to remotely support any kind of "crash" occurring.
Interest rates are expected to remain in the current 6.5-7% range for several months if not most of 2023.
We're still looking for the 3 months inventory level that is considered a healthy market.
Moving Forward
We've spoken at length about adjusting expectations in the past several months blog posts. I won't rehash that today. The market has returned to a more balanced and normal state. It's going to take a little longer for most homes to sell now. They aren't going to be selling much above asking price. Buyers can look at a few homes before making an offer. It's the market we worked in for a long time before the past two years. It's still a good time to buy or sell property in Abilene, TX. Life continues on, and the market is stable. You aren't going to miss a big upswing in prices if you are trying to sell. You aren't going to miss any big downswing as a buyer.
By working with a local expert who is studying the data, knows Abilene, and has experience through these kinds of market changes you can make good transactions. You can be confident in the investment of this large asset. Our team at BHGRE Senter, REALTORS brings our 65 years of experience serving the Abilene residential and commercial real estate markets to bear to help our clients make informed and confident decisions. Contact Us to get connected with a professional today.
Industry Thoughts
Several large public real estate companies reported earnings recently, and there were a lot of losses. There is no doubt that there are challenges ahead for REALTORS and the companies in the real estate sector. My big takeaway here is to be cautious of companies you never heard of before the past 2-3 years. The state of the market allowed things to take place that aren't sustainable, and business models to exist that won't function moving forward. When you work with that REALTOR you need to ask yourself are they going to be here in a few years when I need them again? 65 years of Senter, REALTORS. 100 years of Better Homes and Gardens. That's the legacy we bring to the table. Tested, established, and trusted. We've served your families and businesses for generations and will continue to do so. In a real estate market that is ever changing let us be the constant you can count on!
Until next time!
Shay Senter – President & Owner, BHGRE Senter, REALTORS