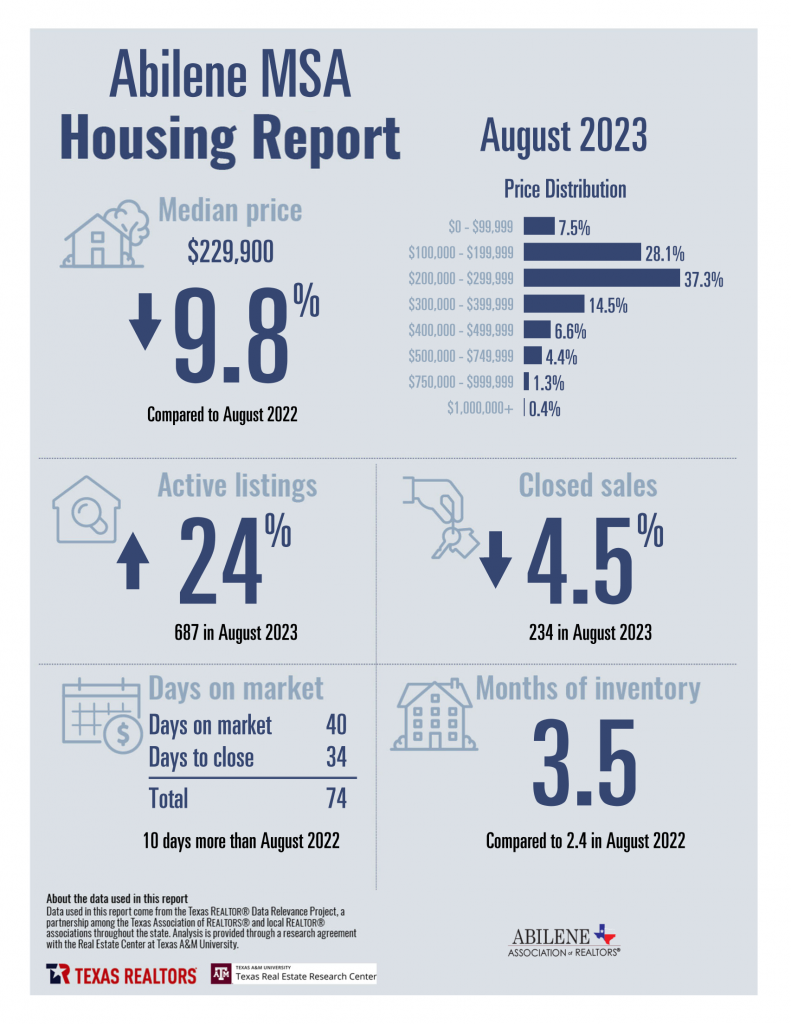 August 2023 Housing Stats for Abilene, TX: Navigating a Volatile Market
In the ever-evolving landscape of real estate, the housing market in Abilene, TX, for August 2023 continues to be a rollercoaster ride. With fluctuating mortgage rates, prospective buyers and sellers are treading carefully. The upcoming federal update holds promise for potential changes in the mortgage rate scenario, but for now, let's delve into the current state of affairs.
Market Dynamics: Buyer's and Seller's Market
One of the defining characteristics of this market is its dual nature – it's both a buyer's and a seller's market. The division primarily hinges on price ranges. Homes priced between $150,000 and $275,000 tend to lean more towards a seller's market. In contrast, properties above the $300,000 mark have experienced a significant slowdown, creating favorable conditions for buyers.
The $200,000-$300,000 Sweet Spot
What's particularly intriguing this month is the surge in home sales falling within the $200,000-$300,000 price range. August 2023 has tied with August of the previous year for the highest percentage of homes sold in this bracket. It suggests that buyers are targeting this sweet spot where they can find good value for their investment.
Opportunities for All
This dynamic market presents opportunities for both buyers and sellers. If you're a buyer with the financial means to navigate this landscape, there are various properties available that might pique your interest. On the flip side, sellers can find their niche in the market by tapping into the right price range and strategic marketing.
Affordability Challenges
However, it's essential to address the elephant in the room – affordability. Many potential homebuyers are grappling with the stark reality of being priced out of the market or facing qualification challenges due to the mounting costs associated with homeownership. Rising mortgage rates, insurance premiums, property taxes, and the general cost of living have made the dream of homeownership a distant one for some.
A Glimmer of Hope: Stable Rental Rates
Amidst the affordability woes, there's a slight silver lining. Rental rates have plateaued, offering some respite to those who might not be ready to take the homeownership plunge. This stabilization in rental costs could also have a positive impact on overall inflation in the region.
The Federal Decision Awaits
As the market continues to be in flux, all eyes are on the forthcoming federal decision, expected later this month. It's a wildcard that could potentially reshape the real estate landscape in Abilene. Whether it brings relief or more uncertainty remains to be seen.
Navigate the Market with Our REALTORS
In these turbulent times, navigating the real estate market can be a daunting task. However, our dedicated team of REALTORS is here to guide you through every twist and turn. If you're wondering about the opportunities that await you in this market or simply seeking advice, don't hesitate to give us a call. Let's chat and explore the possibilities together.
Comparing Pre-Owned Homes vs. New Construction Sales
For a more in-depth analysis of the housing market, we've prepared a detailed comparison of pre-owned homes versus new construction sales. This data can provide valuable insights into the nuances of the Abilene housing landscape, helping you make informed decisions in this complex market.