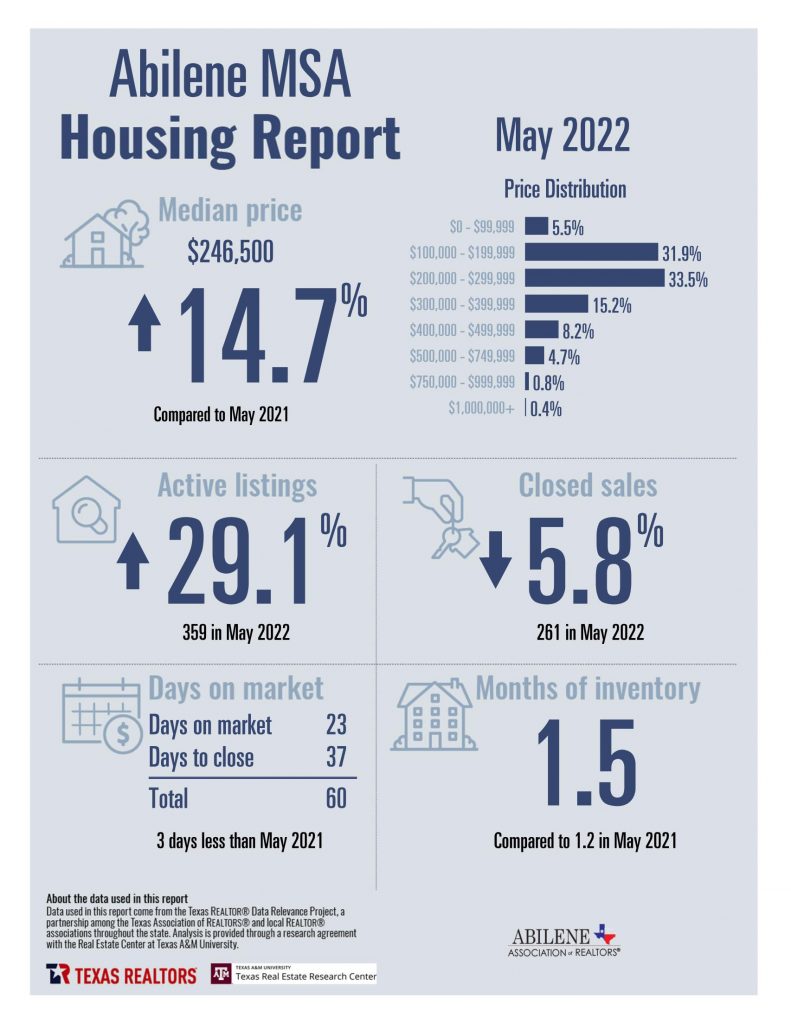 The New Normal for Abilene Homes
The world is still adapting to the new normal, and real estate is no different. I talked about this a little bit in last month's post, but it's more relevant as we move forward. Prices *ARE NOT* up another 15% compared to the past several months. The median sales price statistic does not tell the story of individual home values. What we continue to see on this metric is that the only homes that have come on the market under our "new normal" are higher priced homes. May of last year was just beginning to see the dramatic rise in home prices here locally in Abilene that occurred throughout 2021. Prices are up from a year ago, but not drastically so compared to the last 6 months.
Abilene Listing Inventory
Listing inventory is in the beginning of a recovery. Homes on the market and our inventory which factors in the number of homes sold are all improving. Home owners that are looking to sell homes in Abilene can still expect a sellers market in most cases for the foreseeable future. The easiest listings to overprice as the market adjusts, and combined with rising mortgage interest rates, are homes that are not updated and require some work. The buyer preference of not wanting to deal with additional work to make the home ready for their needs is stronger than ever. That aspect of market behavior absolutely must be taken into consideration when pricing those properties that could use some work.
Abilene Home Buying Struggles
For updated homes in high demand price ranges between $250,000-$350,000 competition is fierce. Homes sell extremely quickly, buyers are competing against multiple offers, and continuing to pay over asking price to be the winning bid. Mortgage interest rates increased above 6% this week as the fed continues to take measures to combat rising inflation. All time high prices combined with the highest mortgage rates we've seen in several years make affordability a challenge. This will continue to be a factor through the end of the year. Demand will decrease as these conditions are expected to remain unchanged. This is not all bad news for the market as the record low interest rates was driving an extreme surge in buyer demand that was a key factor in our current inventory shortage. Sales prices and rent rates have finally caught up with several years of underproduction in housing supply.
Call BHGRE Senter, REALTORS!
We are here for you, and have been for the past 65 years. This market has never been changing so fast, and our expert REALTORS are standing by to offer you guidance and advice. Whether you are buying or selling there has never been a more important time to have full-time representation. Our REALTORS are operating in this market every single day, and are ready to put that experience to work for our clients. We set a company record in May for under contract sales by representing Abilene home buyers and sellers aggressively, professionally, and full-time. Expect Better when you work with us, and call us today to discuss the next stage of your real estate journey.
-Shay Senter, President BHGRE Senter, REALTORS