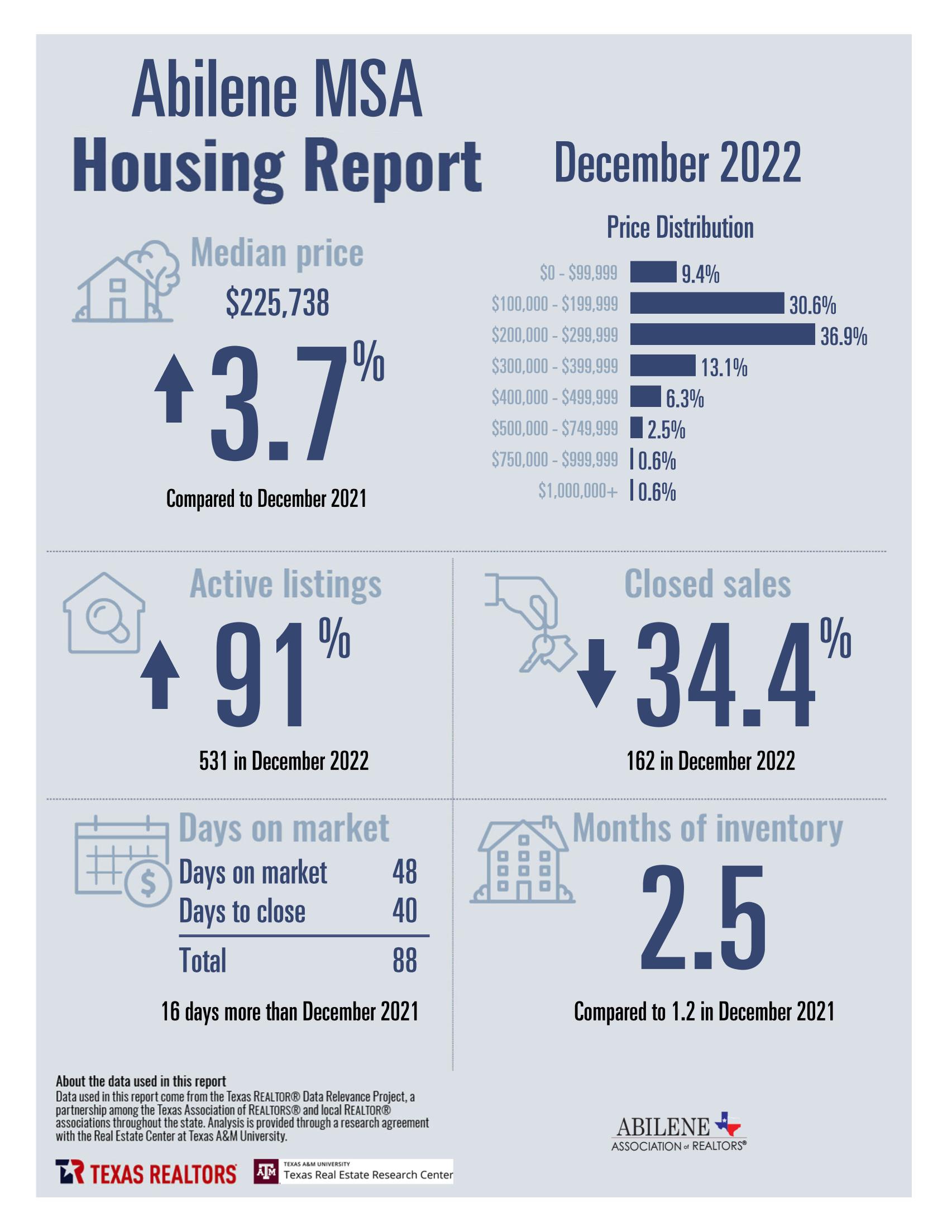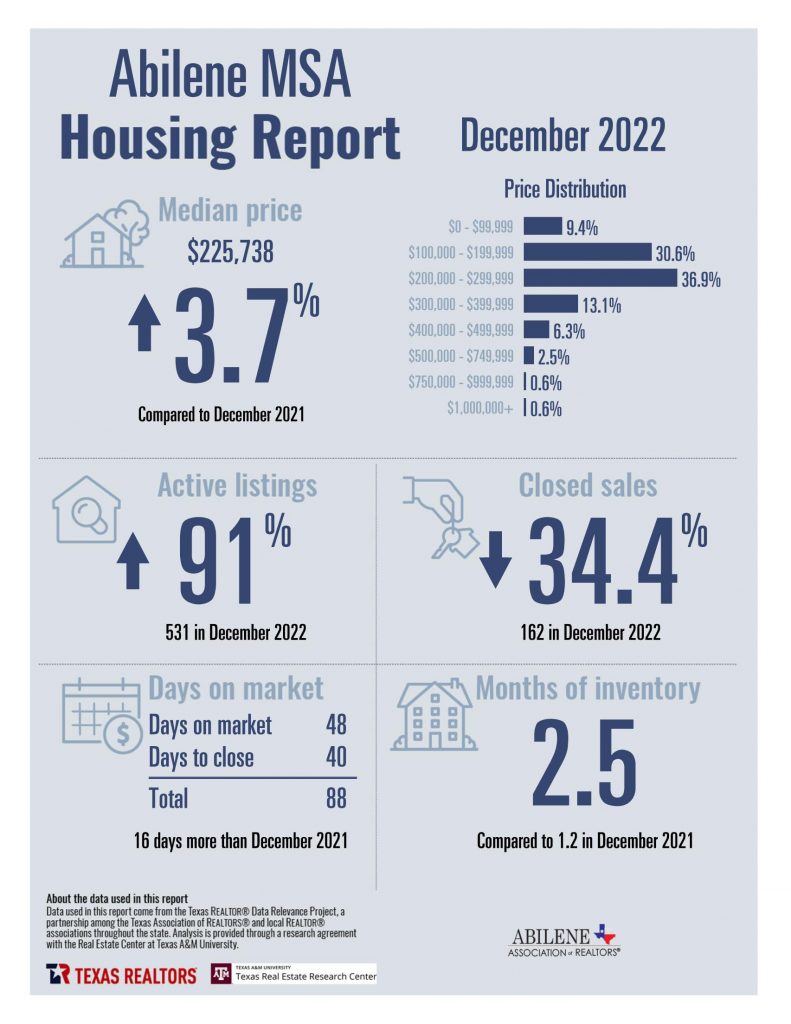 The market is changing, and the wild ride of the past two years is over.
Quick Thoughts
The closed sales decline should be taken with a grain of salt. A slowing market happened right as the holidays began which are a historically slower time.
Annually closed home sales for Abilene are down just over 8% which is a better metric to work with.
Inventory has increased drastically in the last half of 2022.
Prices have remained mostly flat since April, and are expected to remain so for most of 2023.
Seller Expectations
The sweet ride for sellers is over. An important aspect of the rising inventory is also how many new construction homes that are on the market. Your home value is always competing against what buyers can acquire in the new construction market, and they've got a lot of options. As of the time of me writing this there are 95 new construction homes sitting active on the market! The lower end price of these options is still in the $225,000-235,000 range.
As a seller you need to take your REALTOR's advice to heart. You need to be hyper aware of what your pre-existing home offers when a buyer could go buy a brand new everything home for $230,000.
Buyers overwhelmingly show they prefer homes that need little to no work. Why is that? Remodeling is expensive, stressful, and can be difficult. Like many other things in the world supplies are more expensive, schedules are longer, and labor is more expensive. You can spend $20,000 updating a home much quicker these days than you could a few years ago. That is a crucial aspect of pricing your home against new construction when you consider the cost, and hassle, it would take to complete those updates.
It's a different market, and you need a REALTOR who can give you the good data and advice. Seller concessions can play a crucial role in this, and having a REALTOR who can help you navigate which concessions are the most effective is equally important.
Buyers Get Relief, but Affordability Issues Remain
Getting qualified for a loan can still be a huge barrier for buyers. Rising interest rates, increased cost of living, and tighter lending requirements all play a factor here. The affordability of housing is becoming increasingly more of a problem combined with the price increases of homes the past two years.
Buyers, in most cases, no longer have to worry about trying to see a home the first hour it hits the market to put an offer in. Home buyers are not often having to submit prices significantly above asking price and/or waiving their due diligence items.
For the buyers that can get qualified for a mortgage the market is a much less stressful one. There are still areas with inventory shortage, but it's much less than it has been.
Looking to 2023
Interest rates are expected to remain in the low 6 range for most of the year.
Prices are expected to remain mostly flat.
Number of sales is expected to slightly decline, which we've already seen begin.
Sellers have to adjust their expectations.
Buyers need to be diligent in managing debt and not buying more than they can really afford.
See the annual housing recap for 2022 below!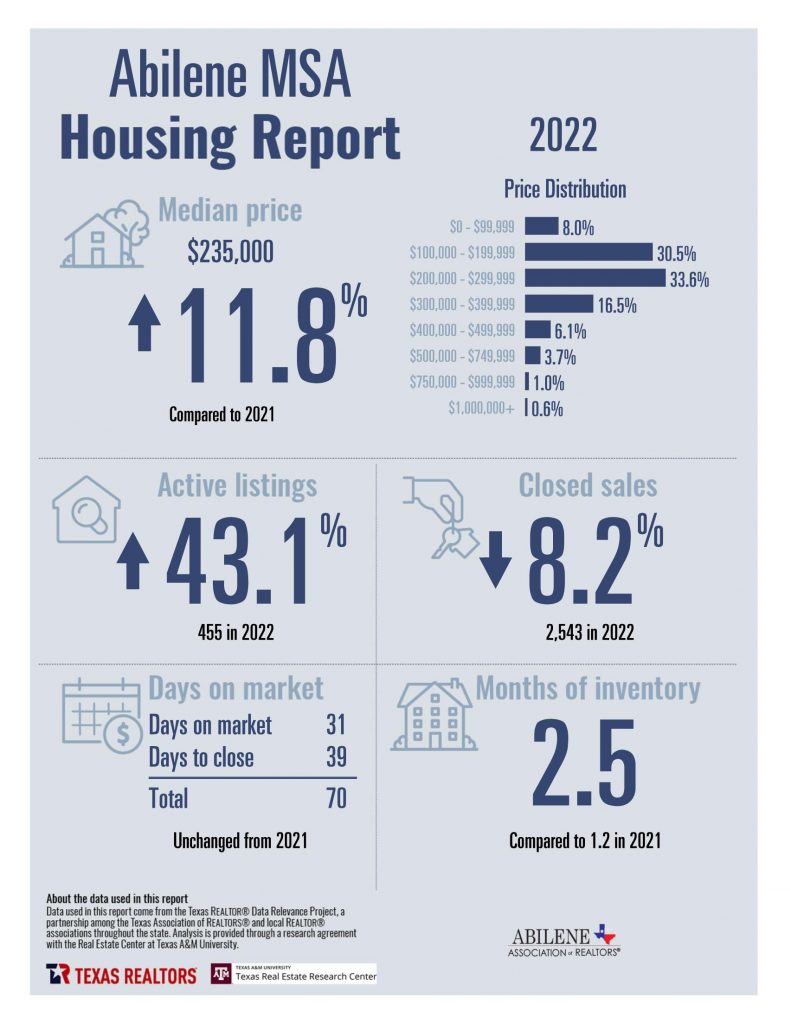 Until next time!
Shay Senter – President BHGRE Senter, REALTORS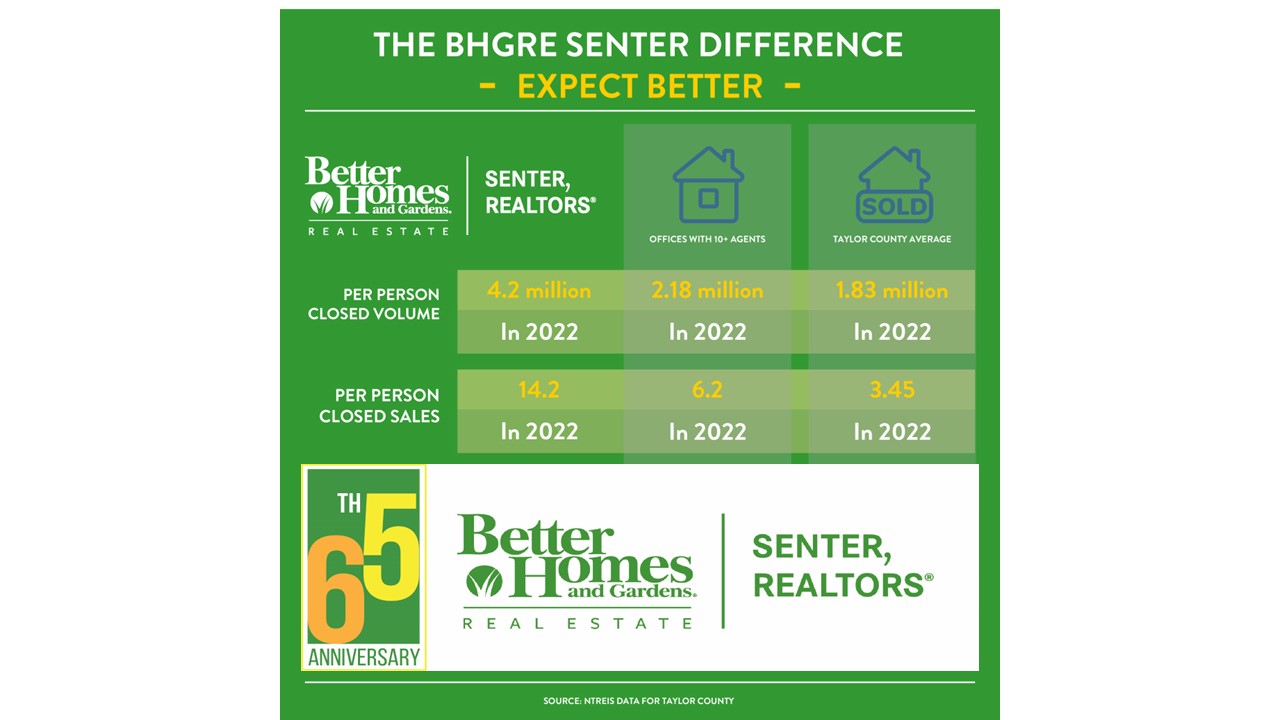 2022 Highlights
Set two company records for most under contract sales in a single month
Highest company sold volume in 20 years at 66.2 million in closed sales!
Celebrated 65 years of being a locally owned and operated Abilene business
Over 30 non-profits and events supported in 2022
Quality over quantity with outstanding numbers in the image above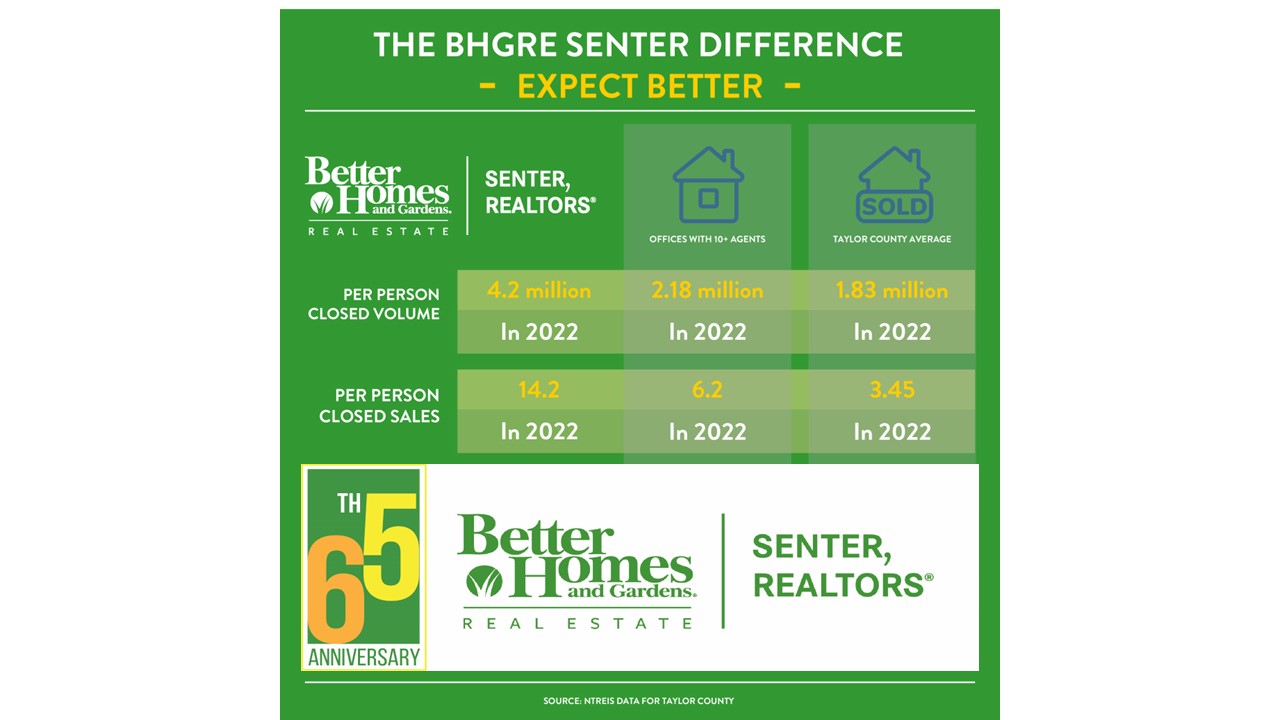 Commercial Real Estate Success
31 closed and funded commercial real estate transactions in 2022
1031 Exchange and NNN Investors successfully represented
Retail, Office, and Medical were a majority of transactions
See some of the highlights in our video below:
It's been a crazy market, and even crazier when you realize there are now more than 730 licensed REALTORS in Abilene. I work hard to make sure they have the best support system in real estate, but none of that matters without their dedication and expertise they bring to clients.
2023 will not be without challenges, but I couldn't ask for a better team to face it with. So long 2022, but it was a pretty good way to celebrate our 65th year in business here in Abilene.
Happy 2023 and give us a call if we can help you with any of your commercial or residential real estate in Abilene and The Big Country!
Shay Senter – President, BHGRE Senter, REALTORS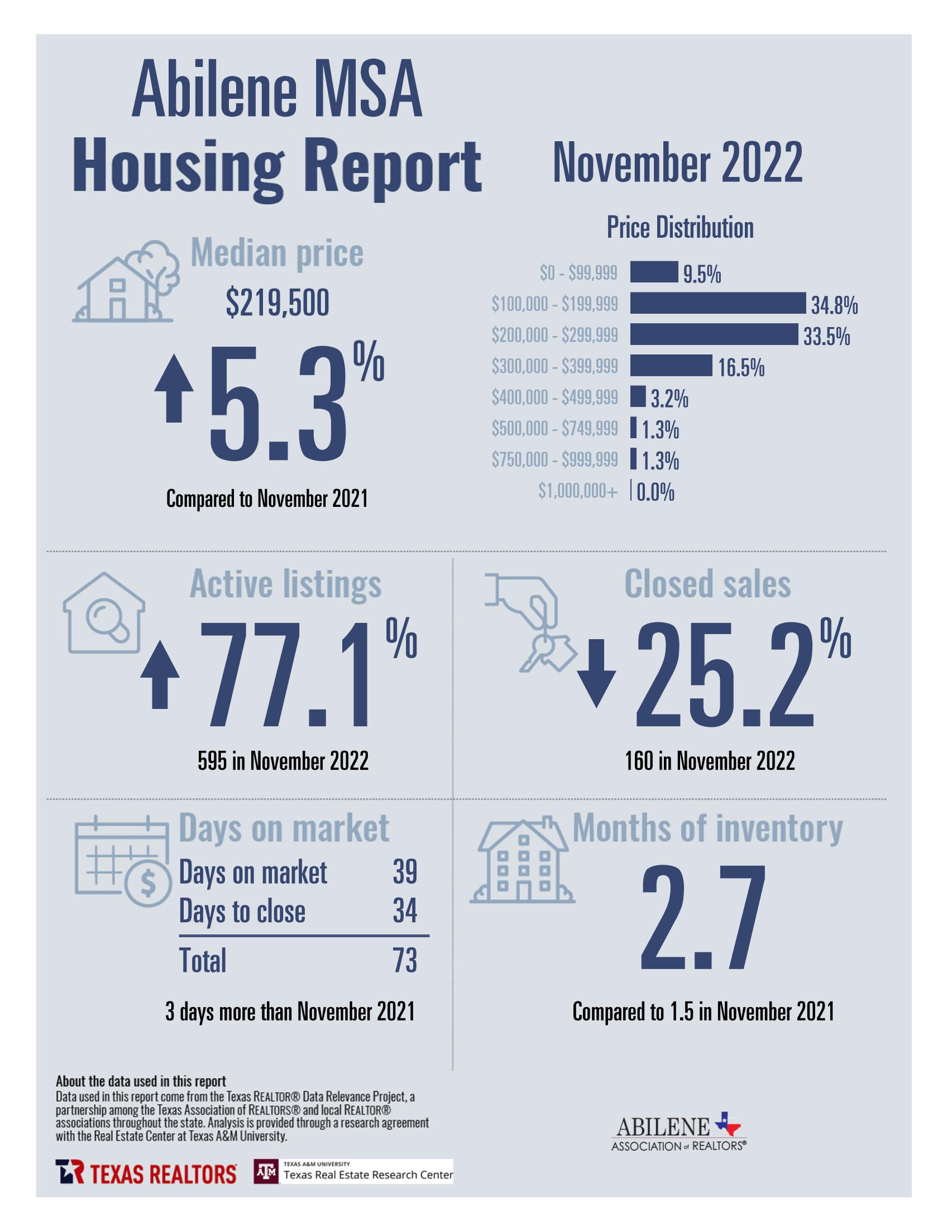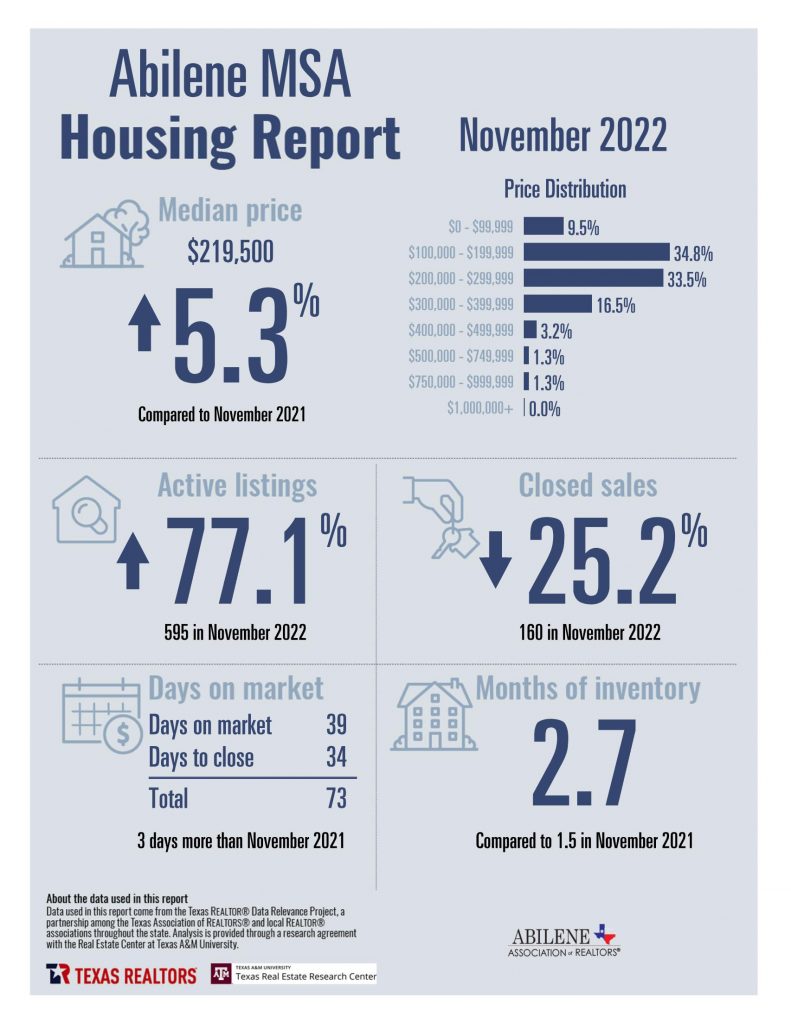 Quick Thoughts
November is historically a slower month, and overall home sales were very low
The lower median sales price is largely a factor of the limited volume
Interest rates peaked during November which impacted buyer activity
Moving Forward
Interest rates have pulled back, and are expected to stay closer to 6% moving forward
Prices are expected to remain mostly flat in 2023
Total number of sales is expected to decline
Interest Rate Buy Downs
This is a powerful tool for buyers. Seller concessions are becoming increasingly common again as the housing market returns to a more balanced position. An interest rate buy down is an option you should discuss with your REALTOR and lender when writing your offers. This is the absolute best way to reduce your monthly mortgage payment. A typical concession cost can result in $300-500 reduction in your monthly payment. This is looking at average and slightly above average home prices in Abilene, TX.
There are additional options that can be more short term. The benefits of this would be looking at refinancing in a few years, or even if you might move in a shorter period of time.
With interest rates being so low for several years before this recent rise this tool hasn't been used in a while. We believe it is highly effective and our team of Abilene REALTORS are here to answer your questions and guide you through the process.
Happy Holidays!
The Better Homes and Gardens Real Estate Senter, REALTORS team is thankful this holiday season. We're thankful for our amazing team, our wonderful clients, and to have called Abilene home for over 65 years now. The donations and support we've been able to give back over this holiday season are only possible because you choose to trust us with your business.
There's never been a more important time to have an experienced expert on your side. Give us a call if you have any questions about homes or commercial real estate in Abilene, TX!
Merry Christmas!
–Shay Senter – President, BHGRE Senter, REALTORS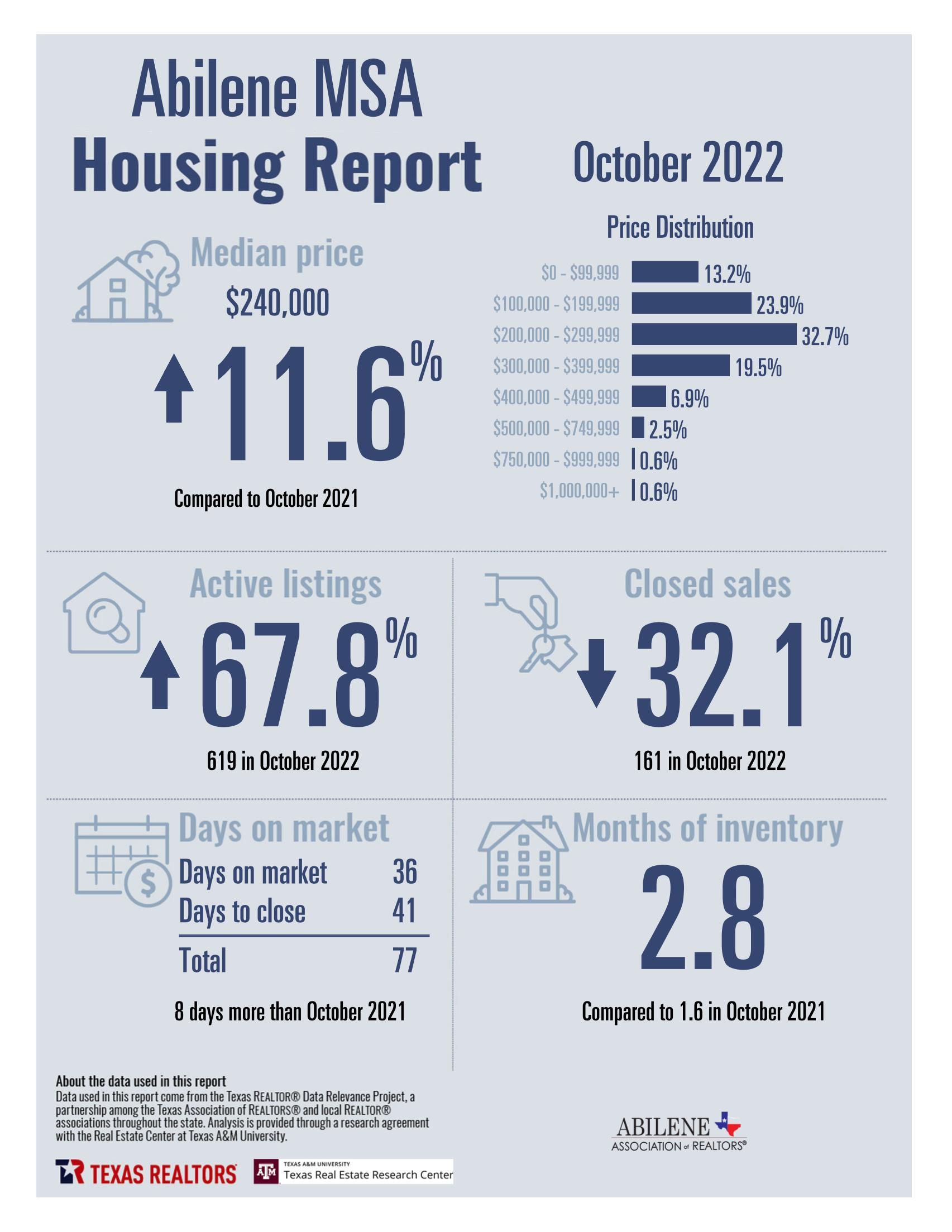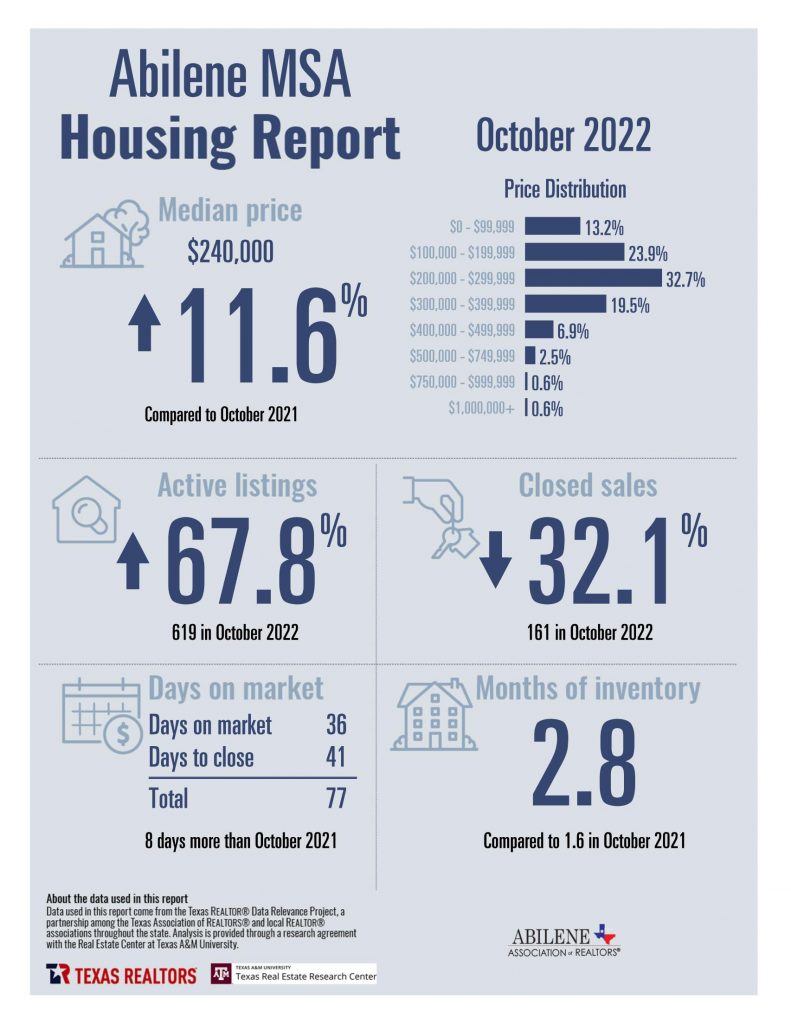 Well yes, I do believe the market has changed.
The Highlights
Prices continue to remain flat since April.
Prices are expected to remain mostly flat through 2023. With a potential to rise ~3%. There is also potential for prices to drop 5%.
There is no data to remotely support any kind of "crash" occurring.
Interest rates are expected to remain in the current 6.5-7% range for several months if not most of 2023.
We're still looking for the 3 months inventory level that is considered a healthy market.
Moving Forward
We've spoken at length about adjusting expectations in the past several months blog posts. I won't rehash that today. The market has returned to a more balanced and normal state. It's going to take a little longer for most homes to sell now. They aren't going to be selling much above asking price. Buyers can look at a few homes before making an offer. It's the market we worked in for a long time before the past two years. It's still a good time to buy or sell property in Abilene, TX. Life continues on, and the market is stable. You aren't going to miss a big upswing in prices if you are trying to sell. You aren't going to miss any big downswing as a buyer.
By working with a local expert who is studying the data, knows Abilene, and has experience through these kinds of market changes you can make good transactions. You can be confident in the investment of this large asset. Our team at BHGRE Senter, REALTORS brings our 65 years of experience serving the Abilene residential and commercial real estate markets to bear to help our clients make informed and confident decisions. Contact Us to get connected with a professional today.
Industry Thoughts
Several large public real estate companies reported earnings recently, and there were a lot of losses. There is no doubt that there are challenges ahead for REALTORS and the companies in the real estate sector. My big takeaway here is to be cautious of companies you never heard of before the past 2-3 years. The state of the market allowed things to take place that aren't sustainable, and business models to exist that won't function moving forward. When you work with that REALTOR you need to ask yourself are they going to be here in a few years when I need them again? 65 years of Senter, REALTORS. 100 years of Better Homes and Gardens. That's the legacy we bring to the table. Tested, established, and trusted. We've served your families and businesses for generations and will continue to do so. In a real estate market that is ever changing let us be the constant you can count on!
Until next time!
Shay Senter – President & Owner, BHGRE Senter, REALTORS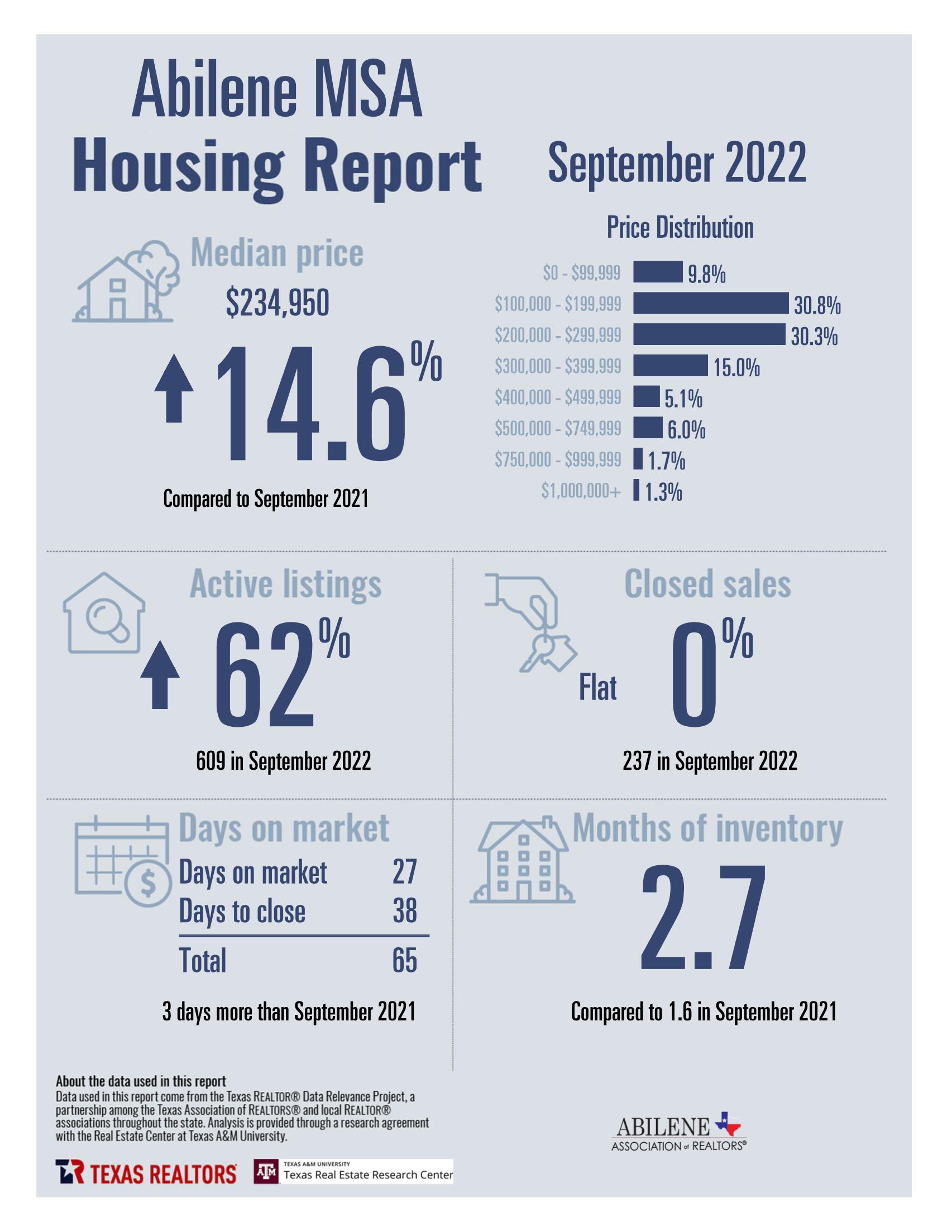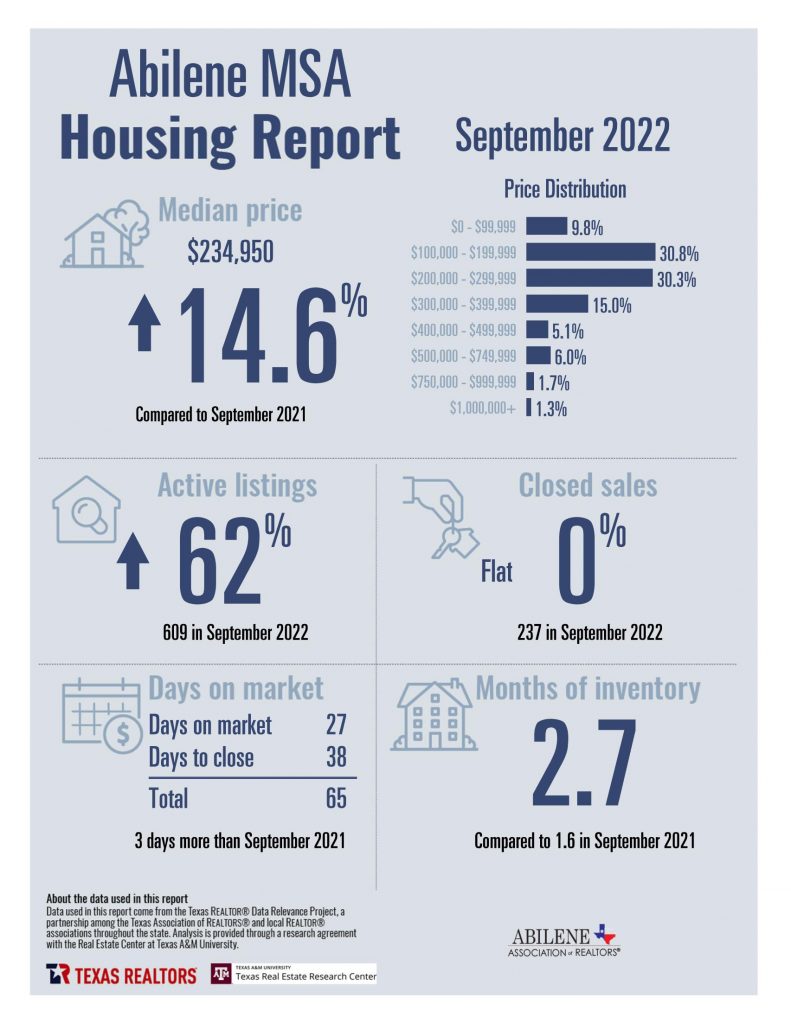 The market is changing. Having professional, local, and full-time guidance to guide your real estate decisions is more important than ever. Interest rates have risen more than expected, and positive inflation news remains aloof. The inventory recovery continues to be strong as we get closer to returning to three months of available inventory. Home prices have remained flat since April of 2022.
Seller Reality Check
For a vast majority of sellers the market is in a mostly balanced state. Still slightly favoring sellers, but it's changed dramatically from what we've all been experiencing for the past year. In the Abilene market we've seen approximately 15 price reductions come through the MLS every day. If you aren't adjusting to the new normal and discussing your price with your REALTOR, you need to be! As cost of living continues to rise, higher interest rates increase mortgage payments, and continuing to work with record high housing prices has cooled the insane demand that fueled most of 2022.
Sellers need to expect to make a few more concessions. Some common examples are offering to pay for that home warranty or pay some buyer closing costs. Updates throughout the home have only become more important as the buyer demand has dwindled and buyers continue to show a very strong trend in preferring move-in ready homes. Contractor and general employment shortages continue to pose challenges to the remodel market, and for those buyers who are willing to take on a "fixer upper". The hot market has left us, for now, and until things change with interest rates and cost of living you can expect the market to remain cool.
I would remind anyone reading this that BHGRE Senter, REALTORS offers upfront, no fees, funding for various home remodel projects when you list your home with us. Several thousands of dollars of funding, a project coordinator, and you just pay at closing! It's one of the many benefits we offer our clients to get the most profit for your home. Contact us to learn more about this program.
Buyer Relief
For both agents and buyers life is easier. The amount of multiple offer situations has declined drastically. Buyers aren't having to make offers sight unseen or waiving all of their due diligence items. It's simply a normal market. This is not to say buyers are without unique challenges of their own. With inflation and interest rates the way they are many buyers are finding themselves unable to afford a home they could have afforded a few months ago. The average mortgage payment has increased by approximately $700 per month since last year due to rising prices and interest rates. That's a large expense increase for most families!
The Bottom Line
It's still a good time to be in the market to buy or sell. For buyers, if you know you're going to live in that home for at least 3-4 years then becoming a home owner to start that path of equity and wealth is still a solid plan. Rent prices have seen similar levels of increase, and interest rates are expected to go down eventually. Whenever that occurs you can refinance your home to take advantage of those lower rates in the long term. Date the rate, and find a home you can enjoy. If you are going to be a short term buyer there is a very strong case to just keep renting as the costs associated with selling your home make it a difficult case to be in your favor.
Sellers still get to enjoy unprecedented amounts of equity in most cases. While homes are sitting on the market a little longer than they used to you will walk away from the closing table with a lot of profit to pursue your next dream. Taking the few extra steps to perform a few high impact updates, and making sure house shows well can make a big difference in this new market.
The market is changing, and data has to be accounted for every week! It's never been more important to have a full-time and local expert to offer you guidance and advice on your real estate goals. Trust in our 65 years of experience, our local expertise, and high producing REALTORS to get the most out of your real estate transactions. Reach out to the office, or your favorite BHGRE Senter agent, for a free consultation on your current needs.
Until next time!
-Shay Senter – President BHGRE Senter, REALTORS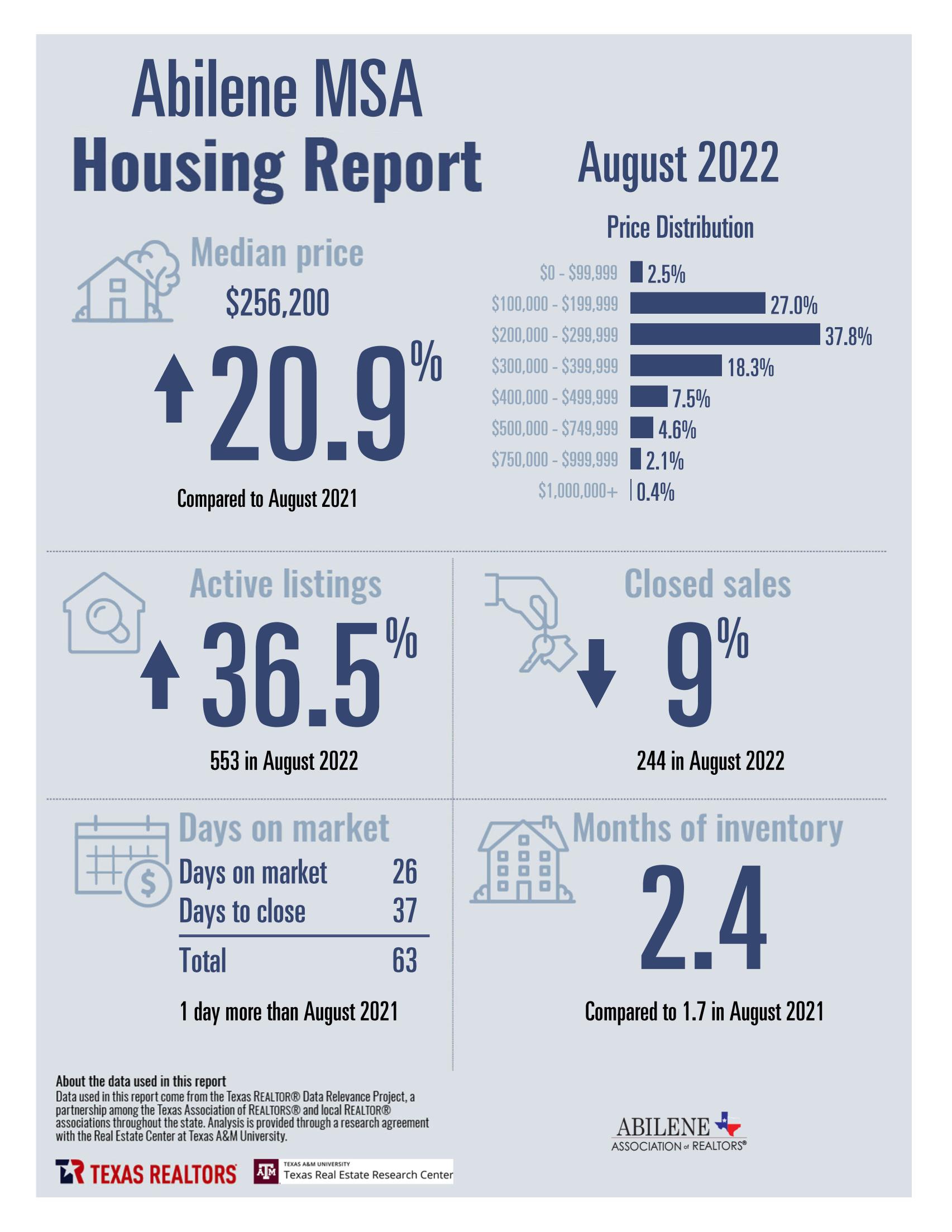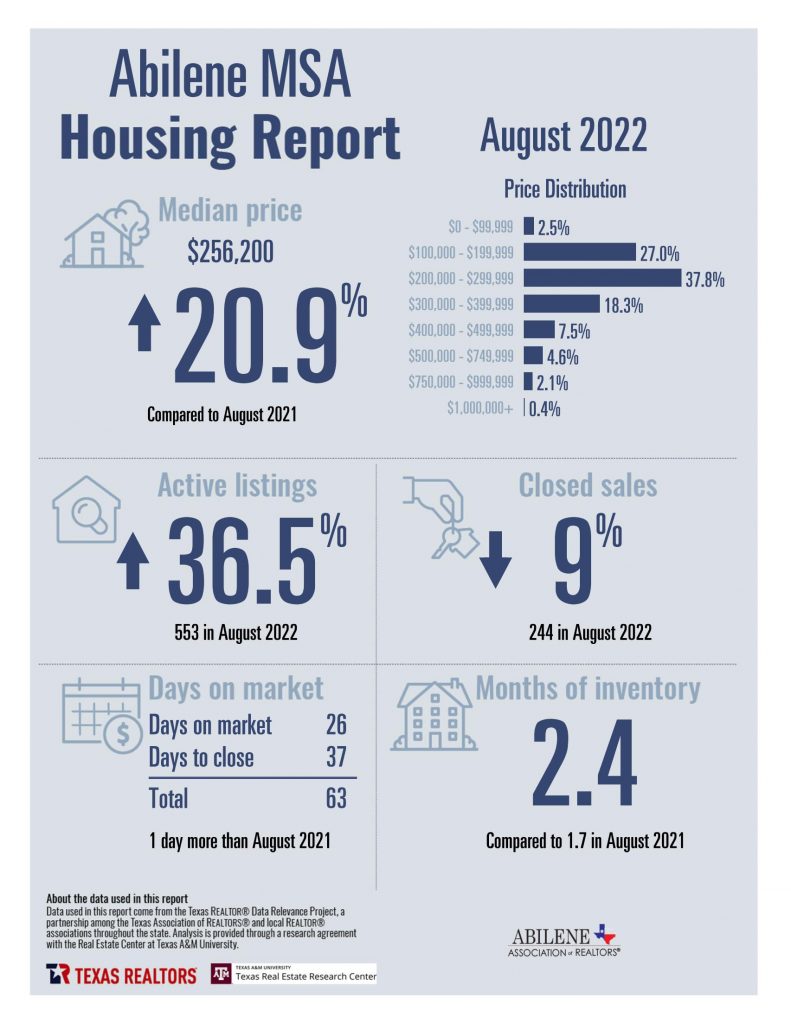 A Changing Market
The market is changing. The heavy seller's market we experienced for a good 15 months is no more. It is still a seller's market, but not drastically so. Demand has dropped significantly due to inflation, rising cost of living, and mortgage interest rates continuing to rise. The median sales price remains largely unchanged since late March. I wanted to share some insight from NAR chief economist Lawrence Yun that provides a good viewpoint on these issues and how they are impacting the housing market and overall economy.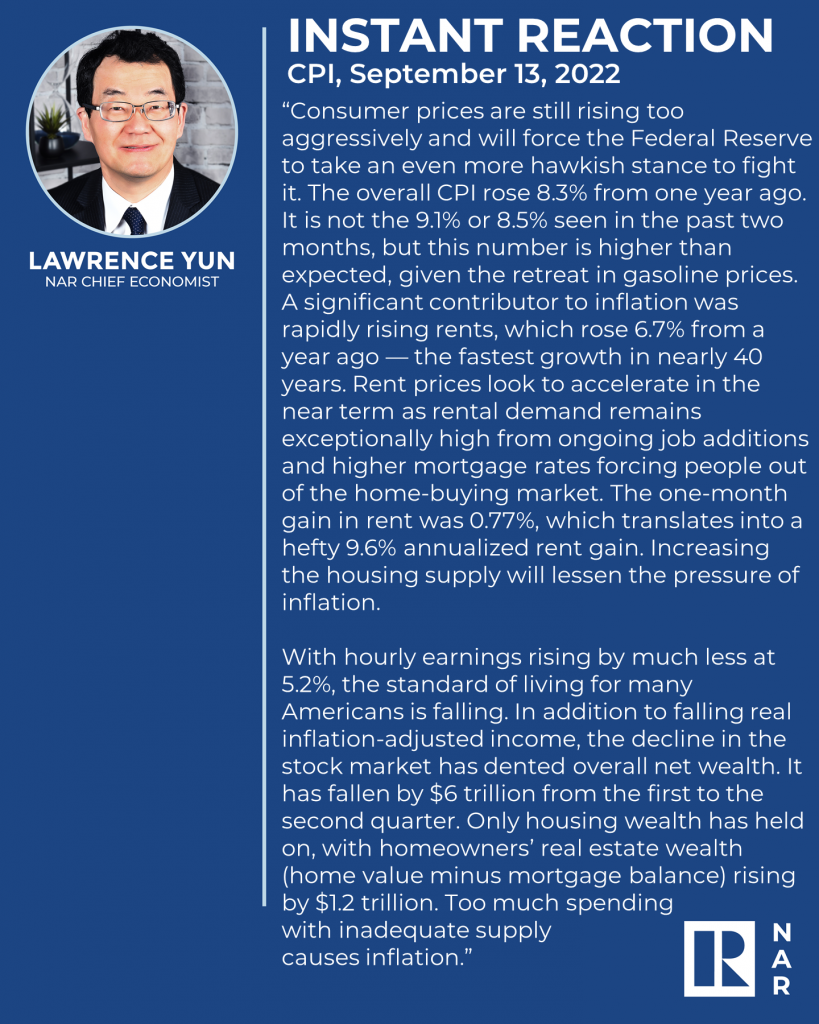 Still A Good Time to Buy
While housing affordability has become a significant issue if you can afford to buy it's still a good time to do so. It's important we remember there is essentially no data to suggest a pullback in housing prices. In fact, all data points to housing prices continuing to rise at much more normal rates of 3-5% annually. Interest rates are expected to increase in the short term, but with very little volatility. The odds are good that if you tried to wait for a slightly better interest rate the increase in housing prices over the course of several months would eliminate any potential gain. I encourage buyers to buy now if they are able and find a home they love. If interest rates change significantly in a few years you can always refinance.
Seller Expectations
The amount of equity in a vast majority of homes has never been higher. You will still get the highest price for your property in history. However, it can take a little bit longer to sell. While homes can still sell quickly I would encourage sellers to begin to plan for 2-3 months of marketing time in most situations, and still expect a 30-45 day closing period after that. Doing some work upfront to improve the curb appeal, fix minor repairs, and make sure the home shows well have also become more important. Demand has decreased slightly, and there are more homes on the market than there has been in almost two years!
As the number of listings continue to increase you need to ask how is your property standing out? Do you have good photos? What kind of advertising campaigns are being run for your property? Is your agent working to get feedback, and being available to answer questions as buyers get more patient and inquisitive? Factors that have mattered less these last two years are now important again as this market shifts back to something that is mostly normal. Reach out to any of our Roadrunners who you can find here: https://senterrealtors.com/our-agents for a free consultation on your home value, determine your equity, and the market conditions for your neighborhood.
Until next time!
-Shay Senter – President BHGRE Senter, REALTORS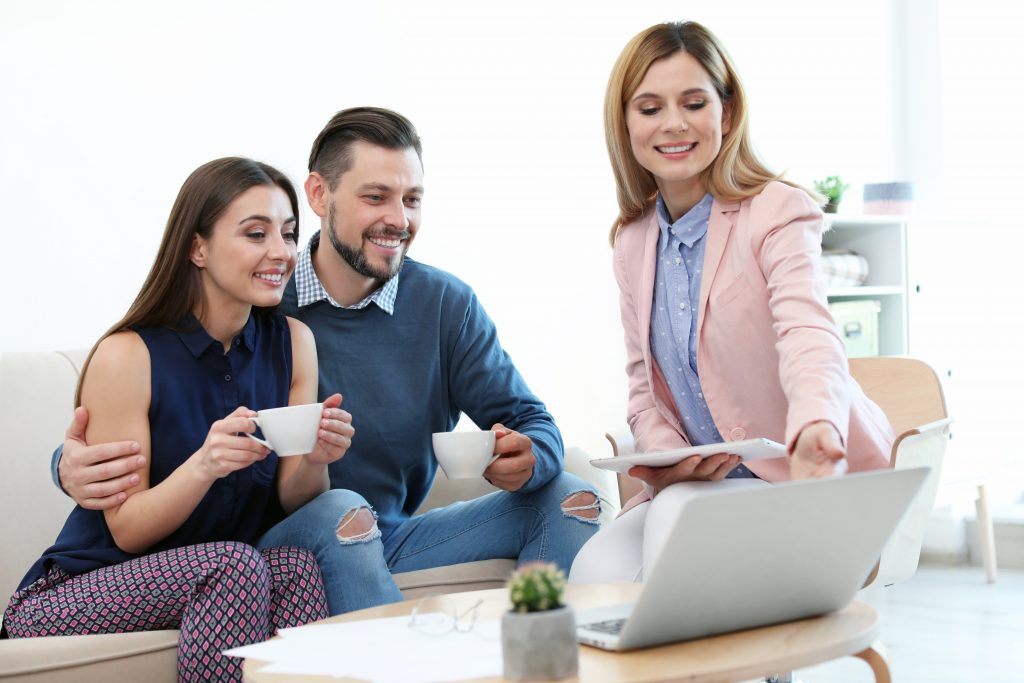 I wanted to take some time today to talk about these three categories of people who can participate in the real estate process, what kind of rules bind each category, and why it's important to the public to know who they are dealing with.
Unlicensed Individuals & Groups
It's important that we remember that anyone can buy and sell property. You do not have to be a REALTOR, and you do not have to work with a REALTOR to buy and sell property. In principle it's not any different than selling that bed on Facebook. If two parties agree to exchange an item then off you go (with a little bit of paperwork).
Where this gets confusing is when private property owners work under their LLC or other official organization. "Real Estate People, LLC" does not mean that entity is licensed or overseen by any licensing force just because they've formed a business for it. Why is this important for the public?
Like anything else, there are of course some basic laws that any private citizen has to follow. However, as an unlicensed private citizen they do not have to abide by the license act and further have no code of ethics from the REALTOR organization to oversee them and offer recourse for mistakes or untruthfulness.
I hate to say this, but there are plenty of people out there to scam you in real estate as there are with so many other scams. The unlicensed entity has no ethical obligations to you for disclosure or presenting truthful and accurate data. One of the biggest scams out there, in my opinion, are those going through the assigning process. That is where they make an offer to buy your property and then they sell that contract to another investor. If that person can buy your property, and then sell it for thousands of dollars to another investor, and that investor after all their expenses is still making an acceptable return on their money then the person who sold that property originally is the one getting ripped off.
There are plenty of upstanding private entity's out there, but beware! The number of unethical groups unfortunately grows every day, and we'll talk here in a second about why you should always consult with your local REALTOR.
Licensed Real Estate Salesperson
This person is someone who has completed their courses and is officially licensed by their state entity. They must comply with the Real Estate License Act, and there are official methods in place to file complaints if they violate that act. Being licensed does not mean they are a member of the REALTOR organization, they might also not be a member of the local association. This reduces the resources they have access to which can include, but not limited to, MLS, Training, and Broker Support.
REALTORS
Becoming a REALTOR is getting that license and going even further. REALTORS are a membership group that includes further oversight, a code of ethics, additional resources, and more layers of support to the public if the REALTOR violates any rules or makes mistakes.
Going back to my comment on selling a property. If you speak to a REALTOR about selling your potential flip property there are multiple layers of disclosure we are required to discuss with you. We would have to tell you how much the property would sell for as is, the potential upside if you did the remodel work yourself, and then we would tell you what our offer would be to do the remodel and have to disclose how we arrived at that number.
As an investor a REALTOR is no different and still expects to make a return on their money, but we are required to disclose all of that information. This allows you to make an informed decision on how best to proceed with the property to fit your needs. Maybe that is still selling it below market value, and letting someone else do all the work. There is not anything wrong with that, but being informed with truthful and accurate information is a key part of that.
Trust Your REALTOR
We are here for you. To answer your questions. To guide you with expert advice and opinions. To make sure you are making an informed decision about any real estate transaction you are pursuing. Call your REALTOR. Trust your REALTOR. We are committed to the public and protecting your interests, and our organizations take that very seriously if it is ever violated.
I hope you found this informative! Until next time.
-Shay Senter, President BHGRE Senter, REALTORS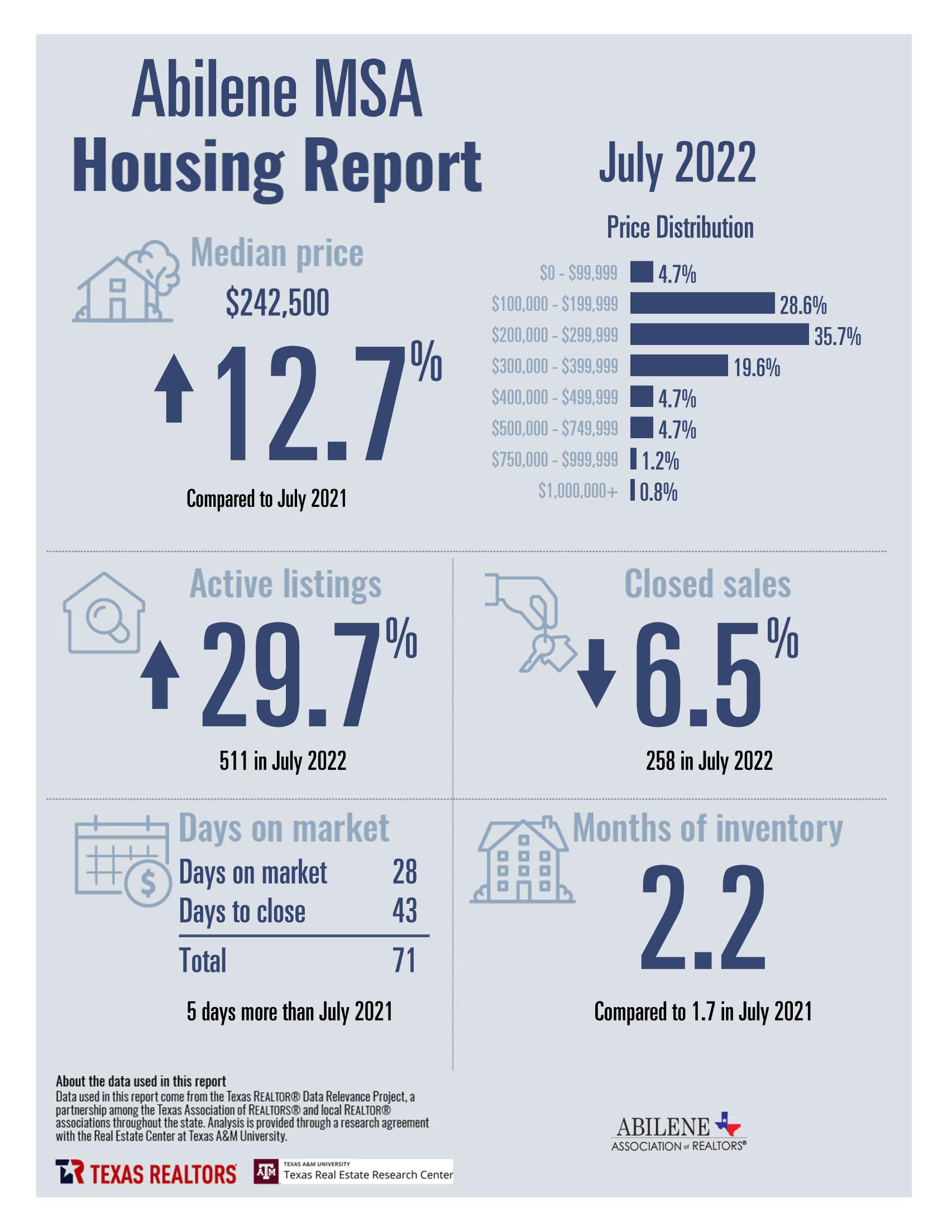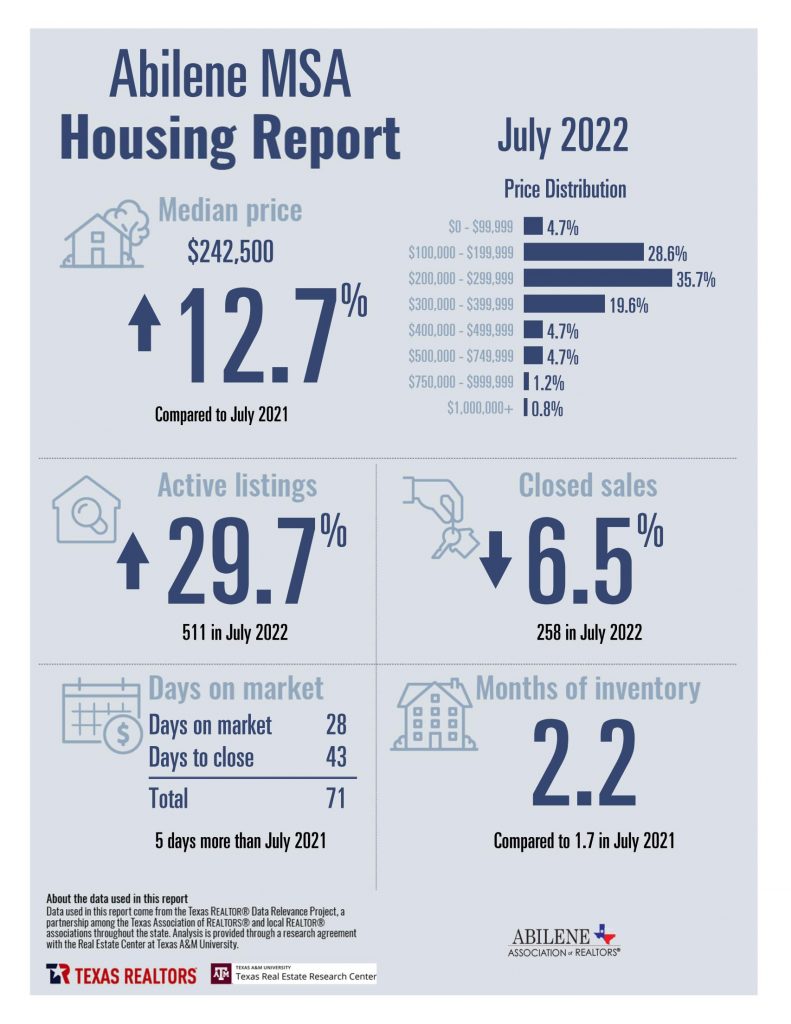 Inventory Recovery!
For the first time since October of 2020 we have over 2 months of housing inventory available. This is mostly fueled by a surge in homes being put on the market, but also by a slight decrease in home buyer demand. The factors we've been talking about for months with increased prices, rising rates, and economic conditions reducing the number of buyers in the market are all playing out as expected.
There's not much else to say this month. Prices have remained mostly flat since April, and are expected to remain so through the end of the year. Marketing times are still down though starting to rise as more homes sit on the market for longer. It's going to be important for sellers to keep expectations in line with reality as the market returns to a more balanced position. Overpricing your property is still one the easiest ways to hurt your final return and you need to listen to your REALTOR and dive into the latest data for your neighborhood!
Mortgage rates have decreased slightly, and there is not expected to be much variance through the end of 2022.
Until next time!
-Shay Senter, President BHGRE Senter, REALTORS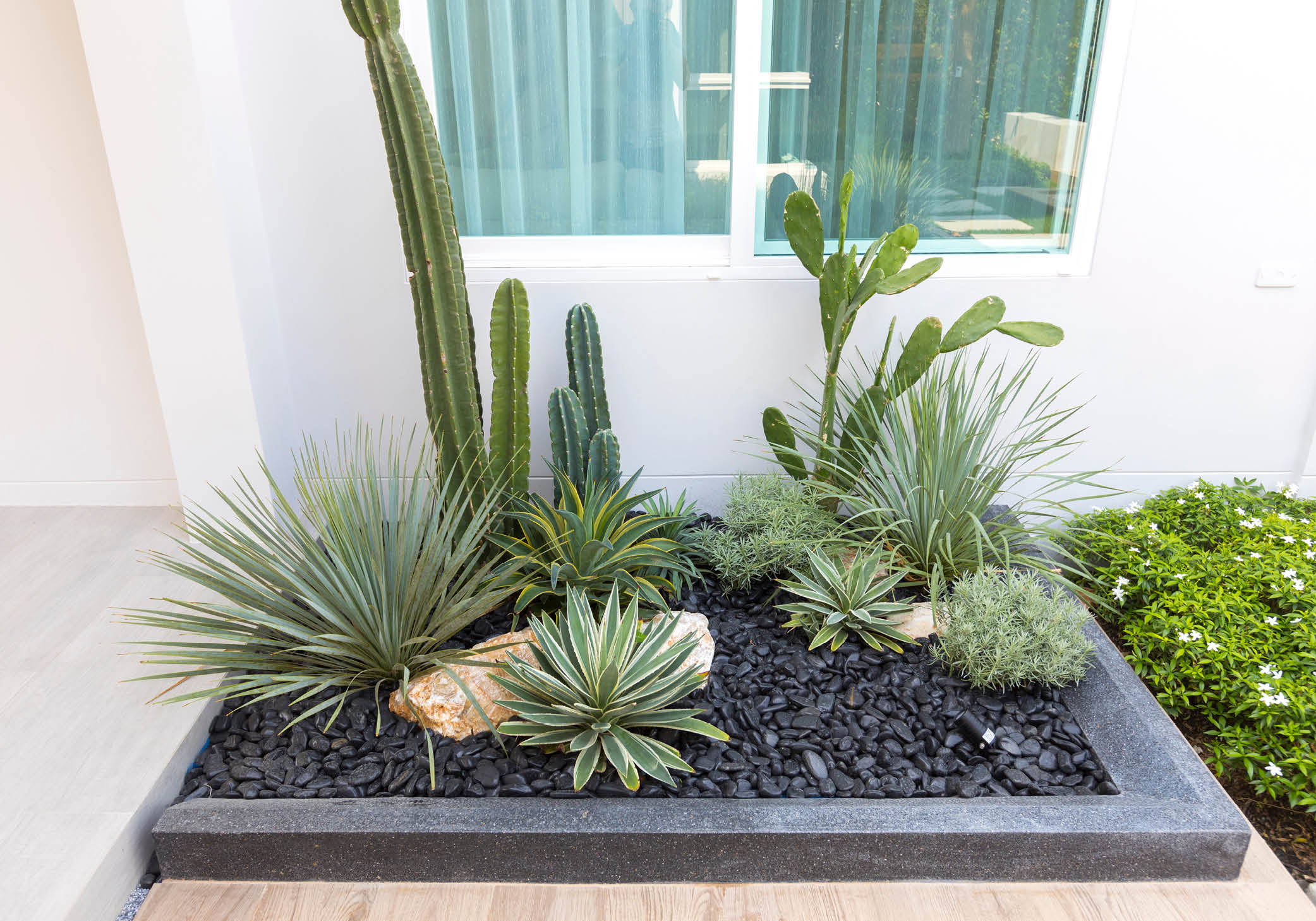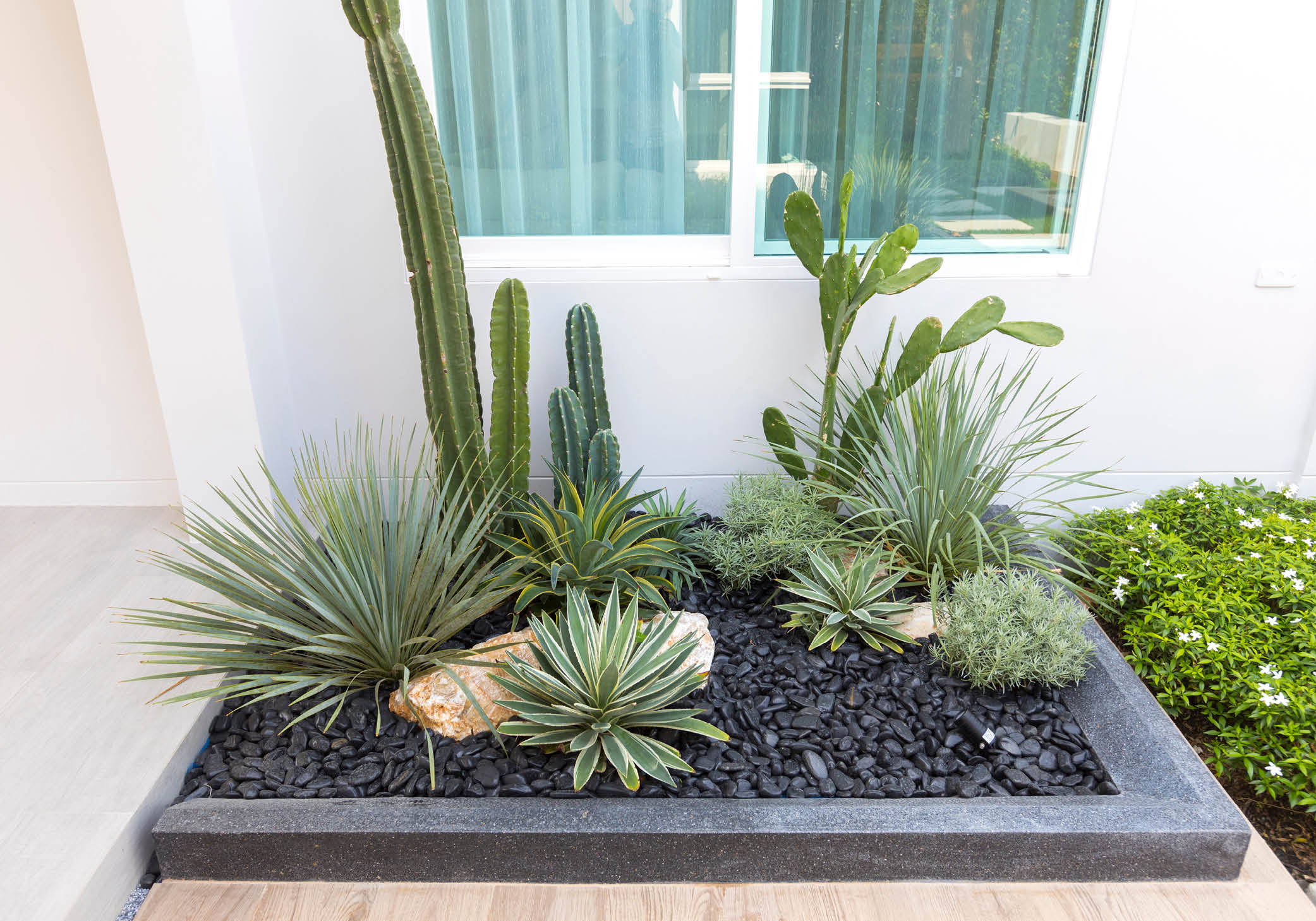 Eco-friendly home improvements can significantly benefit the planet and your wallet. While making choices like purchasing energy-efficient appliances, replacing windows, and switching to renewables to power your home will require an up-front investment, over time, they can make a remarkable difference in the amount of energy you use and waste. Read on as we reveal some of the long-term investments you can make to reduce your carbon footprint while creating a comfortable and eco-friendly home.
Convert Your Home from Gas to Electric
As cleaner, renewable energy sources become more available, the benefits of converting your home from natural gas to electric multiply. Air source heat pumps are considerably more energy efficient than gas-powered furnaces. And while gas line leaks are relatively rare, carbon monoxide poisoning from home equipment is a consideration, particularly during the winter months when windows aren't open for venting.
The advantages of electric kitchens alone may make you consider electrifying your home, despite the cost of capping off gas lines. Rachelle Boucher, executive chef, electric kitchens expert, and founder of Kitchens to Life, explains to Martha Stewart Living: "'Natural gas creates unacceptable amounts of pollution with methane and particulate matter in the air. With induction there's less need for air conditioning and ventilation.'" You are also eliminating open flames in the kitchen, which reduces the chances of you (or your children) being burned or sparking kitchen fires. You might be surprised at another advantage of transitioning to an eco-friendly induction cooktop: faster, precision cooking.
Choose Air Source Heat Pumps
If you have a traditional combustion or electric resistance furnace (or boiler) and want to create a more eco-friendly home, it may be time to transition to an air source heat pump. A modern air source heat pump (aka mini split) is a cooling and heating system that is highly efficient, provides consistent temperature comfort (even in frigid weather), and offers precise temperature controls. It also can save up to 40 percent off your energy bills. Existing state and city energy programs may be available to subsidize your transition — making this investment even more attractive.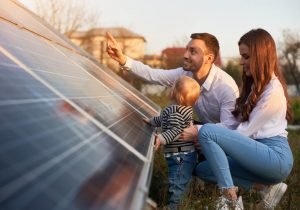 Invest in Eco-Friendly Solar Power 
One of the best ways to save energy and design an eco-friendly home is to make the switch to solar power. Zillow Lifestyle Expert Amanda Pendleton advises Real Simple: "'Not only can adding solar panels to a home save energy costs and help the environment, but Zillow research finds homes with solar panels sell for 2.6 percent more.'" While the initial investment is pricey (approximately $15,000), you will start seeing your energy savings immediately. On sunny days, you are likely to generate far more energy than you need to consume; that energy can be traded to the utility. On high-usage days, you still have access to the grid, should you need more power. Additionally, your bill will not fluctuate the way it does when it is tied to fossil fuel prices. There are also numerous tax credits and rebates (federal, state, and municipal) to help pay for your new solar system. In fact, you can get about 30% of the total system costs refunded to you through a federal tax credit when you file your annual income taxes.
Martha Stewart Living recently highlighted the Solar United Neighbors organization that represents "solar homeowners, community-based solar projects, and clean energy" as a resource for anyone thinking of making the change. Think of it as a "Solar Co-Op" where neighbors commit to enjoying the benefits of investing in sustainable energy together. The Magazine applauds: "SUN is especially unique in that it helps homeowners throughout the entire installation process, from recruiting co-op members, to assessing your roof and finding the right installers."
Add New Layers of Insulation 
When your home doesn't have the optimal amount of insulation, your heating and cooling systems strain to keep your rooms comfortable. The pros at Better Homes & Gardens advise that "[adding] fiberglass insulation to your attic floor and house walls [can] save up to 20% on heating and cooling costs," as it can significantly mitigate energy loss. Other insulation products, like mineral wool, polyisocyanurate panels, sheep's wool, and denim insulation are also environmentally friendly options The Spruce recommends.
Install Skylights
Maximizing your home's access to daylight can be critical to keeping energy use low. The experts at Better Homes & Gardens suggest hiring contractors to "install skylights in rooms with no windows." As the Magazine advises, well-positioned skylights can bring so much daylight into your space that "during the day, you might not need to turn on a light." Skylights can also help you warm the room naturally during the colder months. And not only can skylights improve the value of your home, but you may be eligible for tax credits to help offset the cost of installation.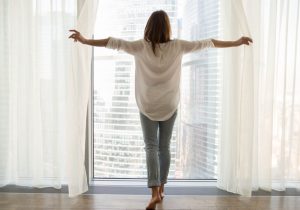 Upgrade to Energy-Efficient Windows
If you want to upgrade to a more eco-friendly home, it might be time to invest in new windows. Real Simple is a fan of installing double-pane options. The Magazine reports: "According to the Edison Electric Institute, heat leaks through a single glass pane about 14 times faster than it does through a well-insulated wall." The experts at Better Homes & Gardens agree and suggest looking for "Energy Star-rated windows" that are "labeled low-emissivity (low-E) or spectrally selective," which reduce "thermal heat transfer."
Buy a Tankless Water Heater
If you have started assessing your options for replacing your current water heater, you'll want to consider the benefits of transitioning to a tankless system. While swapping your system will require a bigger investment than replacing it with a more conventional model, experts estimate that tankless water heaters can reduce your energy usage by up to 25 percent and significantly limit water waste – a particularly appealing benefit if you live in areas of the United States that are plagued by drought.
For homeowners, a whole-house tankless water heater is likely to be more beneficial than installing point-of-use tankless heaters because, as The Spruce explains, these "units have higher GPM flow rate capacity and can handle the demand for more than one fixture at a time." Among the units favored by the Magazine, the "Rheem Performance 7.03 GPM Tankless Electric Water Heater" gets a nod for the best overall electric unit because of its performance and ease of operation.
Purchase Energy Star Appliances
Better Homes & Gardens cautions: "Major appliances are your home's third-biggest energy hog, behind heating, cooling, and water heating." It's not surprising that investing in eco-friendly Energy Star appliances can lead to a significant reduction in energy waste and sizeable savings on your bills. The Spruce reports, "appliances carrying the Energy Star rating typically are 10 percent to 20 percent more energy efficient than non-rated models." Check the bright yellow EnergyGuide labels that specify each appliance's annual energy consumption and the costs of operating the machine while investigating which models will work the best in your home.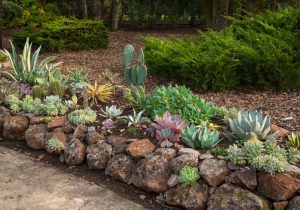 Landscape to Save on Energy Costs
Creating eco-friendly homes includes making smart landscaping choices. In regions that will support them, Better Homes & Gardens proposes "[planting] deciduous trees on the south and west sides of your house" because [in] summer, the leaves will shade your house; in winter, the bare branches will let the sun through for added warmth." In areas experiencing water restrictions due to drought, consider removing grass in favor of sustainable native plantings that require less water while still attracting and supporting birds, butterflies, and bees.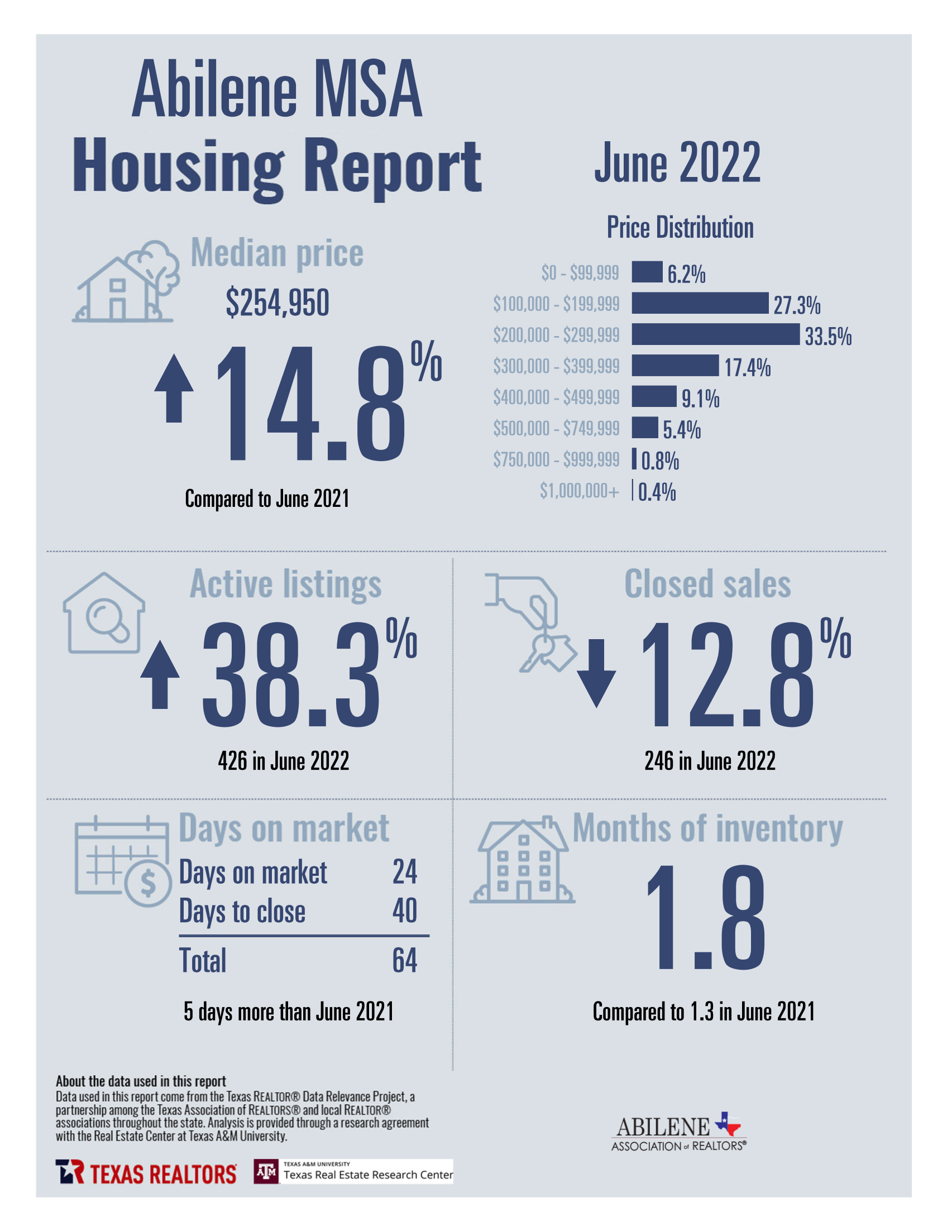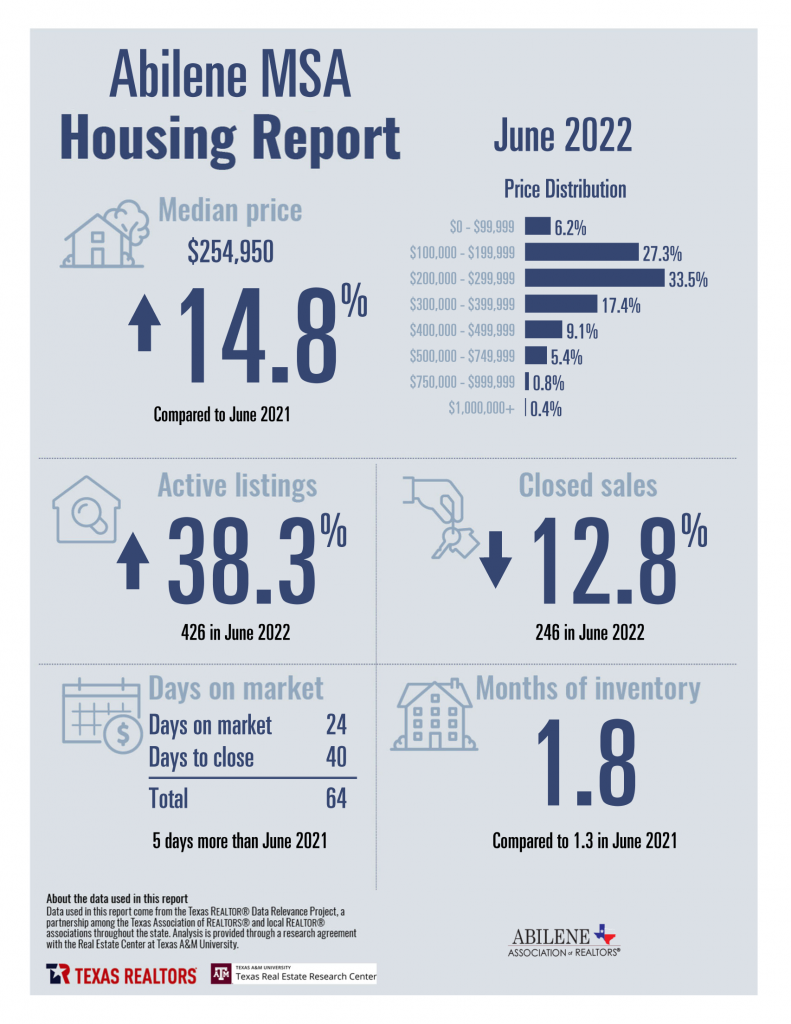 Inventory Recovery
The inventory recovery continues in full swing. We've come along ways from our low of less than 1 month of inventory. A healthy inventory is generally considered to be 2.5-3 months of inventory. We're getting closer. Rising interest rates combined with home prices that continue to rise have slowed buyer demand. Small sections of the market with updated homes will continue to sell fast and usually at slightly above market price. The broader market is starting to resemble what we were all used to before the pandemic.
Inflation & Affordability
It's not all great however as housing affordability has never been worse. According to research from the National Association of REALTORS a year ago families were typically earning 50% more than the average qualifying income for a mortgage. That number has seen a massive adjustment to families only earning 3% more than the average qualifying income for a mortgage.
The inflation in housing costs outpaces the general inflation issues we are all dealing with. However, it's important to realize that the chances of this being a bubble are extremely unlikely. Housing prices are going to continue to increase in the years to come, just at a much more normal rate. If you are waiting to buy it's unlikely you're going to be any better off than you are now. You can always refinance if rates have a significant reduction in the future, but the housing prices are going to continue to increase.
We're Here to Help!
If you are thinking about buying make sure you check out our buyer guide you can download for free by clicking here!
If you have any questions about the market, buying, selling, or commercial real estate in Abilene give us a call! One of our full-time professionals who specializes in that section of the market will be standing by to give you guidance and advice.
Until next time!
-Shay Senter, President BHGRE Senter, REALTORS